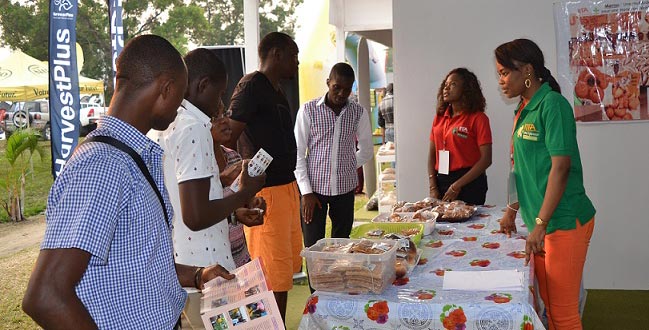 Kinshasa Agripreneurs participate in international agricultural show
The IITA Youth Agripreneurs in Kinshasa (IYAKIN) were participants at the first ever International Agricultural Fair of Kinshasa which was held on 16 to 25 September. The fair was organized to show the country's potentials in agriculture, attract new investors, strengthen public-private partnership, and increase business and job creation opportunities through meetings and exchange of experiences.
Guided by the theme "Together for a Successful and Sustainable Agriculture", the fair also provided an opportunity for the promotion of businesses in the agricultural sector that could benefit the youth. It identified new agricultural markets as well as showcased agricultural innovations and promoted locally made products with an emphasis on establishing a network in the animal and fishery sectors.
IYAKIN showcased a variety of products from cassava and soybean and also explained how they can be used by young people to develop new enterprises in DRC. Visitors including policy makers, politicians, entrepreneurs, investors, researchers, representatives of companies, and NGOs visited the exhibition booth of IYAKIN.
In another development, two IITA scientists, Bernard Vanlauwe and Paul Woomer went on a 5-day visit to IYAKIN that took place on 12–16 September and served three main purposes. Firstly, to see the progress of the activities of the Agripreneurs in cassava processing, mushroom production, and the cassava project at the Bukanga-Lonzo Agro-Industrial Park. Secondly, to determine the value chain in which each of the Agripreneurs within the ENABLE Youth project framework is involved, and thirdly, to initiate vegetable production as part if the Agripreneurs' efforts.
During this working visit, Vanlauwe and Woomer visited the Agripreneurs production units within IITA-Kinshasa station and the Bukanga Lonzo Agro-industrial Park located 260 km from Kinshasa. They also organized working sessions that focused on the search for key information for loan applications and the development of business plans.