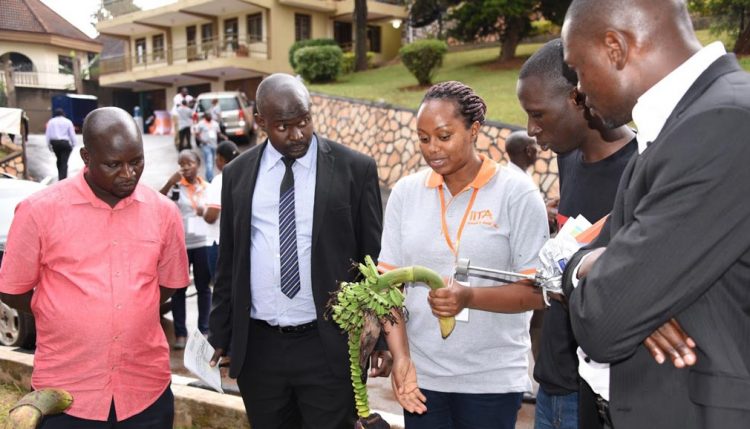 IITA holds Science day to kick off silver and golden jubilee celebrations in Uganda
On 27 October, IITA Uganda marked its 25th year of supporting smallholder farmers growing banana, cassava, maize, coffee, cowpea, cocoa, soybean, and yams to increase their agricultural production; and hosted family and friends of the Institute at a one-day "Science Day" to celebrate the feat.
The event which promoted IITA's research activities had the theme "Research to improve investment decisions and livelihoods in Agriculture".
Piet VanAsten, country director, in his opening remarks recounted IITA's 25-year journey in Uganda and explained the systems approach to agricultural research that the thematic areas of intervention are based on, calling the approach "from plants to policy". VanAsten also highlighted the successes of IITA's operations in Uganda and how they strategically contribute to the country's agricultural priorities.
"I am pleased to tell you that the 25 years that IITA has been in Uganda have been greatly successful with immense achievements. Through our collaboration with the National Agricultural Research Organization (NARO), IITA's 20 years of banana breeding efforts resulted in the 27 NARITA varieties that are resistant to black Sigatoka disease and with a good yield and well-formed bunches," VanAsten said.
The station has also recorded great strides in the development of banana varieties resistant to Banana Xanthomonas Wilt, worked on banana biotechnology, and developed two different cassava varieties with resistance to the Cassava Mosaic Virus and the Cassava Brown Streak Virus. It also provided soybean and maize parent varieties which were successfully used by Makerere University and NARO.
Additionally, the station has successfully undertaken nutrient diagnostics and recommendations for different crops; developed legume-rhizobia high yield packages; implemented coffee-banana intercropping systems; utilized BXW diagnostic and control tools; conducted climate change prediction and planning especially for coffee; provided shade tree recommendations for coffee; and recommended value chain models for key crops. It has also created multi-stakeholder engagement models/learning alliances; identified opportunities for gender and youth; and provided policy support to the Ministry of Agriculture, Animal Industry and Fisheries (MAAIF) for extension and agricultural inputs. There has also been success in sustaining partnerships, quantifying the impact and needs of research as well as in capacity building for students and institutions.
The guest of honor, the Hon. Vincent Ssempija, MAAIF Minister, was represented by Okaasai Opolot, the Director, Crop Resources Directorate of MAAIF. He visited the booths escorted by the chairperson of the food security committee of Parliament, Hon. Abbas Namara, two other members of parliament, and Jerome Kubiriba, the national banana research program leader for NARO, who represented NARO's director general.
In his speech, the Minister commended the IITA Youth Agripreneurs' initiative.
"The step IITA has taken in engaging the youth is in the right direction and should be a learning point. The research community is uniquely capable of generating the technical knowledge required to address the need for markets for agricultural produce, value addition, and regulation for inputs markets like fertilizers and pesticides. Challenges rising from these challenges tend to keep the youth away from engaging in agriculture," Ssempija said.