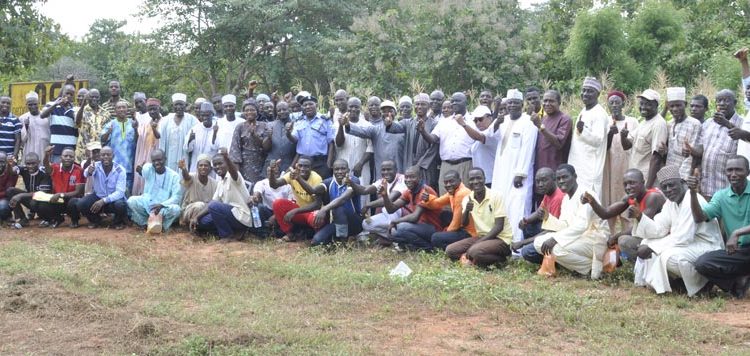 Farmers' field day and donation of 200 hectares of land at Mokwa
IITA's Maize Improvement Program (MIP) with support from Robert Asiedu, the IITA West Africa Regional Hub Director, organized a farmers' field day on 29 October to demonstrate maize technologies for combating Striga hermonthica prevalent on the fields of smallholder maize farmers in Mokwa, Niger State and its environs.
The day also marked the official inauguration and hand-over of 200 hectares of research land donated to IITA by the Niger State College of Agriculture (NSCA). It brought together participants from IITA, NSCA, the Institute of Agricultural Research (IAR) Ahmadu Bello University, the National Cereals Research Institute (NCRI), and local authorities including the Agricultural Development Project (ADP), the Division Police Officer (DPO), community leaders, representatives of Fulani herdsmen, and local farmers from Mokwa, and the surrounding villages of Ndayako, Tunganoma, and Kwandegi.
During the inauguration of the land, Sylvia Oyinlola, Administrator, Western Africa hub representing Asiedu, thanked NSCA for giving the land to IITA to generate technologies for reducing hunger and poverty as well as malnutrition in Africa.
"IITA has been carrying out research work in Niger State for over 20 years, mainly on maize, cassava, cowpea, soybean, and yam. This donation will further enhance the collaboration among IITA, IAR, and NSCA in terms of training and offering job opportunities to the local communities in Mokwa," Oyinlola said. She also encouraged the farmers to take the field day as an important platform for interacting with scientists on various constraints to crop productivity and production.
In his speech, the Provost of NSCA, Aliu Mohammed, announced the official handing over of the land to IITA and implored the Fulani herdsmen occupying the land to vacate it before the start of the next planting season. He appreciated IITA for the collaboration and pointed out that "giving out the land was a combined effort of NSCA and the communities in Mokwa".
The field day session was led by Silvestro Meseka, representing Abebe Menkir, MIP leader. Meseka said that Striga (witchweed), locally called wuta-wuta (in Hausa/Nupe), has infested up to 4 million hectares of land under maize production in sub-Saharan Africa, causing yield losses of up to 80% and sometimes 100% under heavy infestation in farmers' field, especially in areas like Mokwa where low soil fertility and frequent occurrence of drought are not uncommon. He also highlighted the breakthroughs of IITA and partners to eradicate the complex weed. Some of the improved varieties were planted in the demonstration plots adjacent to the Striga-resistant varieties for farmers to see.
"Over the years, MIP and partners (IAR, Institute of Agricultural Research & Training – IAR&T) have developed and released several maize varieties that combine resistance to Striga with high grain yields. Each year, at least one improved maize variety is released. IITA and partners have also developed and released maize varieties with enhanced levels of vitamin A to combat malnutrition among children under 5 years and mothers," Meseka said.
Meseka also pointed out that there was a new challenge to maize production caused by the armyworm (Spodoptera frugiperda) in Nigeria and other West African states including Benin Republic and São Tomé and Príncipe, which had proved very difficult to control.
A total of 110 local farmers including eight women attended the field day. The farmers walked through different maize plots, artificially infested with Striga and non-infested as well as maize varieties with improved levels of vitamin A to demonstrate their performance in the demo plots.
The farmers thanked IITA and other partners for providing them with the opportunity to interact with scientists and learn from the knowledge transfer process. In his vote of thanks, the officer in-charge of CNRI, Mokwa station, S. Tiamiyu, thanked the participants and commended NSCA and IITA for forging a symbiotic collaboration that will benefit not only the farmers but also the agricultural institutions working in Mokwa.