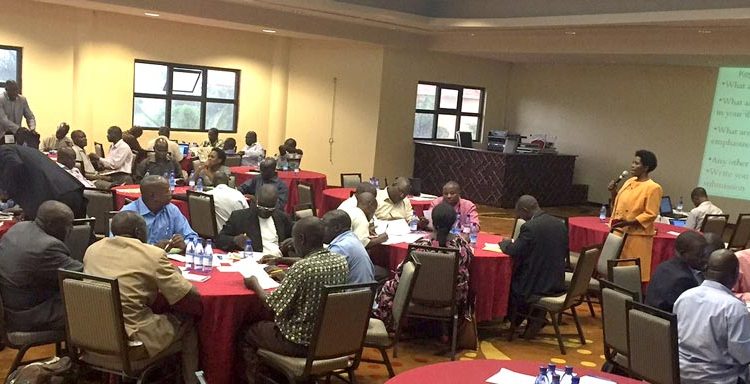 IITA and policy action partners contribute to approved Single Spine National Extension Policy and Strategy for Uganda
The Cabinet of the Government of Uganda approved the National Agricultural Extension Policy (NAEP) and its strategy (NAES) in October, marking another major milestone for the IITA-coordinated Policy Action for Sustainable Intensification of Cropping systems (PASIC) and its policy action partners and projects. These include the Ministry of Agriculture, Animal Industry and Fisheries (MAAIF), Enabling Environment in Agriculture Activity―a project of USAID's Feed the Future initiative in Uganda―and the World Bank.
This is an achievement for the project and its partners in efforts to promote evidence-based climate-smart agricultural intensification policies following the approval of the National Agricultural Fertilizer Policy in April 2016.
NAEP was formulated and approved, with nationwide consultation of stakeholders, in a record of less than a year. The policy will transform extension into a well-coordinated, harmonized, regulated, pluralistic service with multiple providers addressing diverse needs. It synthesizes the fragmented extension service providers into a single coherent whole under a single spine extension system.
The strategy, on the other hand, aims to improve the efficiency and effectiveness of the extension system through the delivery of information and best practices to an array of beneficiaries.
"This strategy will effectively and efficiently provide agricultural extension services to support sustained progression of smallholder farmers, from subsistence agriculture to market-oriented and commercial farming," noted Beatrice Byarugaba, the Acting Director for the Directorate of Agricultural Extension Services, in her opening remarks of the final NAES validation workshop on 12 April 2016.
The strengthened extension services will enable producers to experiment on, adapt, and adopt new agricultural technologies, and therefore increase production, noted Pamela Pali, PASIC Research for Development Coordinator.
"PASIC research findings show that potato yields in South Western Uganda are about 74.4% of the attainable yield. According to Uganda's economic policy think tank the Economic Policy Research Centre (EPRC), the use of quality seed with fertilizer provides the best intensification technology options and provides a country wide farm income per annum valued at US$485 million. However extension is accessed by only 38% of potato producers in the region. Agricultural extension has the potential to increase efficient use of yield, augmenting inputs and hence tripling yield," she said.
To operationalize NAEP and facilitate the implementation of its strategy, the Ministry of Justice and Constitutional Affairs will begin the law reform process. The Directorate of Agricultural Extension Services, will, in collaboration with the District Production Officer (DPO), support the provision of advice and information services to farmers; support technology development and linkages with markets; monitor and ensure the quality, appropriateness, and affordability of advisory services; support private sector and farmer institutional development; provide program management and monitoring; and ensure that the research and extension needs of farmers are identified and attended to by service providers.
To ensure effective implementation, the capacity of DPOs will be continuously developed. During the policy development process in 2015, 112 DPOs were trained on how this new single spine extension system would be coordinated and monitored. As part of the implementation process of the policy framework, the DPOs will be provided with guidelines and standard operation procedures that outline the implementation of their day-to-day extension activities.