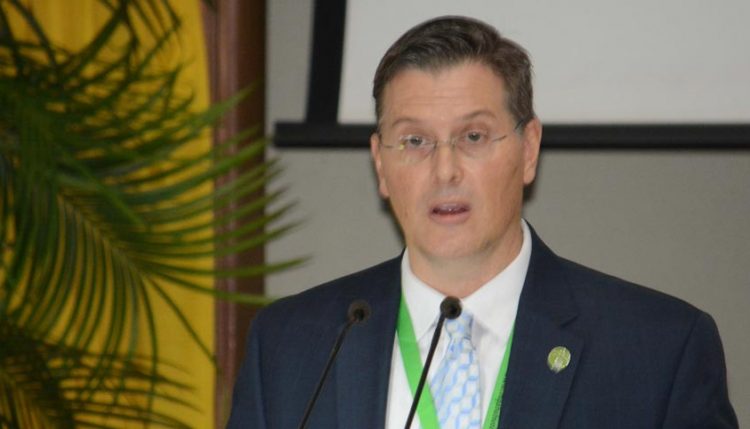 Research put into action can double cocoa yield in Africa – WCF Director
Paul Macek, Director of West Africa Programs of the World Cocoa Foundation (WCF), speaking on behalf of President Richard Scobey, in a keynote talk during the Regional Cocoa Symposium on 8 November, emphasized that research needs to be given more attention to ensure the revival of the cocoa industry in the region.
He said that the theme of the symposium "Next Generation of Cocoa Research for West and Central Africa" was borne out of the need to develop a regional approach to cocoa research that will prioritize critical issues in the sector while demonstrating how research can be put into action to transform the sector, lives, and livelihoods of millions in West and Central Africa.
"The theme of this symposium reminds us that cocoa is central to the livelihoods and way of life for millions. While cocoa cultivation may be culturally rooted for many Africans, we must strive to modernize and professionalize its production and to get there, we need three things from research:
Investments in global cocoa collections.
New varieties that are higher yielding and tolerant to pests, diseases, and the adverse impacts of climate change.
A deeper understanding of the socioeconomic and household behaviors in cocoa growing areas that create sustainable livelihoods and communities.
WCF recognizes the efforts of African cocoa farmers and the challenges they contend with in production, noting that the symposium took stock of Africa's research and highlighted the strategic directions for cocoa research as well as emerging challenges in the cocoa sector. He also said that WCF is devising production models that focus on complementary measures to increase incomes in recognition of the fact that productivity increases alone are not sufficient.
"We acknowledge the most important people to this sector today—the cocoa farmers—whose hard work and efforts are the backbone of the entire cocoa and chocolate industry. Cocoa today faces more threats than ever from pests, diseases, and now sadly, climate change. To overcome these challenges, we are looking to promoting alternative income-generating activities for farmers, ensuring an effective agricultural policy framework that benefits farmers, and developing a more inclusive growth strategy that empowers women farmers and engages the youth".
Symposium participants were asked to "build the bridges of understanding to enhance the sustainability of the cocoa subsector." "Let us continue to build bridges of understanding, sharing, and collaboration as we seek to enhance the sustainability of the cocoa sector and improve the livelihoods of cocoa farmers, their families, and communities," Macek concluded.