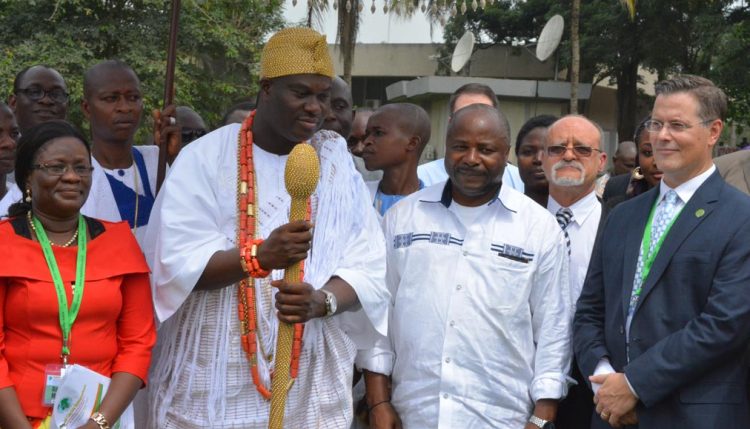 Stakeholders convene in IITA to address research issues in cocoa
Stakeholders, researchers, policy and decision makers across the value chain converged at IITA in Ibadan, for a Regional Cocoa Symposium to brainstorm on the future of Africa's cocoa research, 8-10 November.
The inaugural symposium focusing on the Next Generation of Cocoa Research for West and Central Africa, aimed at addressing the issues around the sustainability of cocoa in West and Central Africa, the region which produces about 70% of cocoa in the world, and strengthening the partnerships among different actors across the entire sector.
Speaking at the opening of the symposium, Kenton Dashiell, IITA Deputy Director General, Partnerships for Delivery, said that IITA would intensify research to improve the production of cocoa and other crops in Nigeria, Africa and the world, and that high quality materials with new genotypes and improved cropping systems that will increase yield and quality of cocoa and improve disease control would be given priority.
The Ooni (king) of Ife, Oba Adeyeye Enitan Ogunwusi, who attended the opening program, said that cocoa farmers in Africa should be involved in determining the price of cocoa in the international market. This can be an incentive for the youths to embrace cocoa cultivation and boost its production. The traditional monarch said, "Africans produce up to 70 percent of the cocoa globally, yet the price is not determined by Africans, but by the West, where the crop is not produced. We should bridge the gap of disparity and work together as a global village to correct it…I am very impressed with IITA; it has added a lot of value in research and development, and I encourage it to keep on adding value in research, for the entire agricultural value chain".
Paul Macek, Senior Director for West Africa Programs of World Cocoa Foundation, said that the symposium will address the hindrances to a healthy cocoa cultivation, and that complementary measures need to be implemented to increase incomes. "WCF aspires to double yields per hectare, through improved planting material, and better agricultural practice under a program called CocoaAction. Cocoa today faces more threats than ever from pests, diseases, and now sadly, climate change. We need to also focus on complementary measures to increase incomes, as productivity increases alone are not sufficient, and we have to do it through research which includes Promoting alternative income generating activities for farmers, ensuring an effective agricultural policy framework that benefits farmers, and more inclusive growth that empowers women farmers and engages the youth", he said.
From the Mars chocolate company, (UK), Martin Gilmour spoke on the importance of improved seedlings for cocoa farmers, "To supply cocoa farmers with improved seedlings, we have to do more breeding of higher yielding cocoa, and investing more in propagation. We also have to invest in producing clones and making sure healthy plants reach farmers. I manage research to improve cocoa productivity and quality, and we are here to absorb information and connect to the African network of cocoa researchers".
"There is need to review policies and develop new strategies to address the challenges faced by the cocoa industry and research institutes involved in cocoa production. We have to come up with the strategies that will ensure sustainable cocoa production for the benefit of all", Dr Olayiwola Olubamiwa, Acting Executive Director, Cocoa Research Institute of Nigeria (CRIN), Ibadan, stressed.
When asked, the United States Agency for International Development (USAID) representative, Jay Daniiuk, stated "The African Cocoa Initiative (ACI) has a focus on youths in terms of making the cocoa sector a profitable business. We will make the plant materials and finance available where necessary".
"This symposium is unique as it brought together private companies, students, USAID, NGOs, and many other stakeholders to address strategic issues and improve research engagement in the cocoa sector", Ranjana Bhattacharjee, Molecular Geneticist at IITA and symposium organizer. "I have a real passion for cocoa, and this symposium addresses the coco farmers' needs.
The symposium was organized by WCF, CRIN, IITA, and USAID.