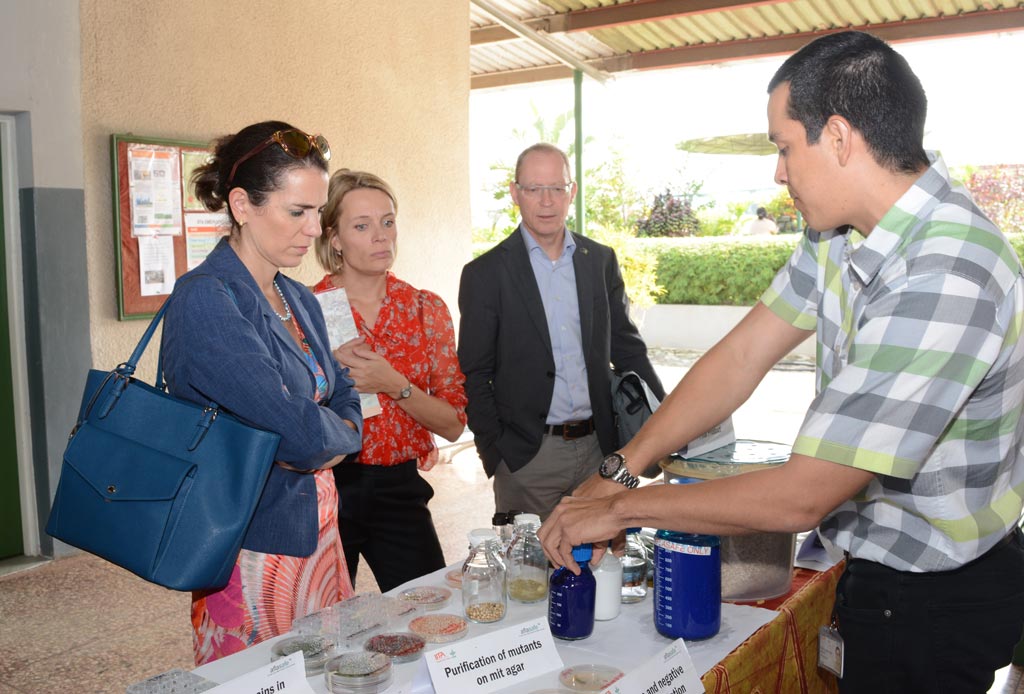 IITA to serve as potential ambassador to EU's project
A delegation consisting of Cristina Russo, Director for International Cooperation and Director General Research and Innovation; Jens Hoegel, Head of Sector Health, Nutrition and Resilience; and Nienke Buisman, Policy Officer, Science, Technology and Innovation (STI) relations with Africa from the European Commission were at IITA, Ibadan on 10 November, to learn about the scope of research conducted by IITA and to discuss how IITA can partner with the European Union in implementing its Horizon 2020 research and innovation program.
Horizon 2020 is the EU's program for research and innovation across the globe to conduct innovative research that will benefit all spheres of life. Buisman stated that "We would like to focus on the role of IITA as an information multiplier on Horizon 2020 in the country and the potential Nigerian involvement in the ERANET COFUND on EU-Africa cooperation in food and nutrition security". The EC delegates also mentioned a workshop to be organized in Brussels in January 2017, during which potential future focus areas of research for EC programming will be developed. The delegation indicated that steps would be taken to ensure that IITA is invited to this workshop, and also sought IITA's assistance in getting Nigeria to the table.
Affirming IITA's capability to undertake the task, IITA Director General Nteranya Sanginga said the Institute is open and fully equipped to partner with both the public and the private sector to bring about the much anticipated agricultural revolution in Nigeria and the entire African continent. He stated that "It is interesting that many private sector organizations are now involved in various agriculture-related businesses. IITA believes the private sector will be the major driver to transform agriculture on the African continent and that is why we put a high priority on these partnerships. When you go around IITA, you will see new prototypes of our business that could be used for seed multiplication, as well as biocontrol products and biofertilizer businesses. These innovations are receiving great acceptance by the private sector, and I am sure the European Union will be interested too."
The delegates went on a tour around IITA, where they got acquainted with several IITA projects. On behalf of the team Hoegel commented "We are exceedingly satisfied and awed with what we have seen. We will be very happy to initiate future collaboration with Nigeria through IITA and to see how IITA can serve as an ambassador of Horizon 2020 research." To take issues forward, Hoegel was nominated as the focal person on the EC side, while Kwesi Atta-Krah would be the focal person for IITA.