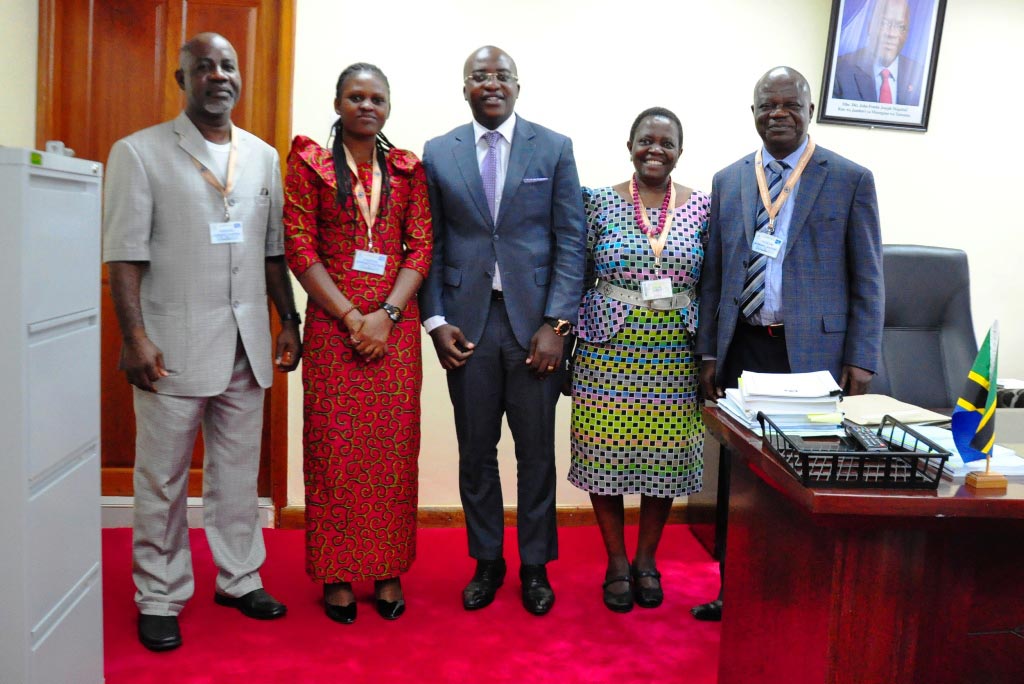 Tanzania's Youth Deputy Minister hails IITA's Youth Agripreneur program and seeks to strengthen collaboration
The Deputy Minister in the Prime Minister's Office, responsible for Labor, Youth and Employment, Hon Anthony Mavunde, has praised IITA's Youth Agripreneurs Program in Tanzania and would like to tap into the Institute's experience and expertise to strengthen and implement a newly launched Youth in Agriculture Strategy for the country.
Hon. Mavunde was speaking to a delegation from IITA that visited him at his office in Dodoma in response to an invitation from his Minster Honorable Jennesta Muhagama. The delegation comprised Victor Manyong, Director for Eastern Africa, Regina Kapinga, Head of Advocacy and Resource Mobilization, Abass Adebayo, Cassava Value Chain Specialist, and Veronica Kinchata, Team leader of the Tanzania Youth Agripreneurs.
Hon. Mavunde informed the visiting team that Tanzania had developed an ambitious strategy to address youth unemployment and one of the channels was through engaging the youth in agriculture. The ministry was therefore pleased to learn that IITA was already implementing a successful program on youth in agriculture and can therefore provide valuable technical expertise to the government's initiative.
"As a government we have developed a strategy to involve the youth in agriculture which we launched recently under the umbrella of the Ministry of Agriculture, Livestock and Fisheries. This is an interministerial initiative involving the ministries of agriculture, government, and regional administration and youth," he said.
"Many youth would like to be involved in agriculture but they face many barriers which we as a government cannot address alone. We will need support from many partners and we see IITA as a key partner that is credible and with vast experience on issues around youth and agriculture," the Hon. Assistant Minister said.
Hon. Mavunde assured the team that the government was fully committed to tackling youth unemployment through agriculture and had a new policy in place that all districts should allocate five percent of their revenue to youth development programs. Likewise, every ward has to allocate at least 20 acres of land for youth to engage in agribusiness activities on the value chains of their choices.
On his part, Manyong congratulated the Hon. Minister for the new strategy which he said was the right step to take in the right direction.
"There are very many opportunities for employment and income generation for the youth in agriculture. We started the IITA Youth Agripreneurs program as a pilot to support, coach, and mentor young graduates as we expose them to various new technologies we are generating from research and agribusinesses. We decided to specifically target graduate youth to attract other youth and change their attitude towards agriculture," he said.
"The program has been successful and has attracted a lot of attention and support from major donors including the African Development Bank which has started a new Africa-wide initiative known as ENABLE Youth (Empowering Novel Agribusiness-Led Employment) in which IITA is heavily involved. Currently 26 countries have expressed an interest in rolling out this program," Manyong added.
Veronica Kebwe Kichanta briefed the Hon. Deputy Minister on the group's current activities, including processing cassava and soybean, providing agriculture services such as modern weeding technologies using herbicides, and vegetable production using greenhouse technology and drip irrigation.
She said it was very important to change the youth's mindset towards agriculture by exposing them to the various opportunities for income generation in agriculture. The youth are therefore attached to the program for a maximum of 18 months during which they are involved in the various agrobusinesses to learn and gain experience.
At the end of the meeting, the IITA team was tasked with developing a concept note on the various ways it can support the Tanzania government in the Youth Agenda and there will be further discussions to cement the partnership and move the proposal forward.