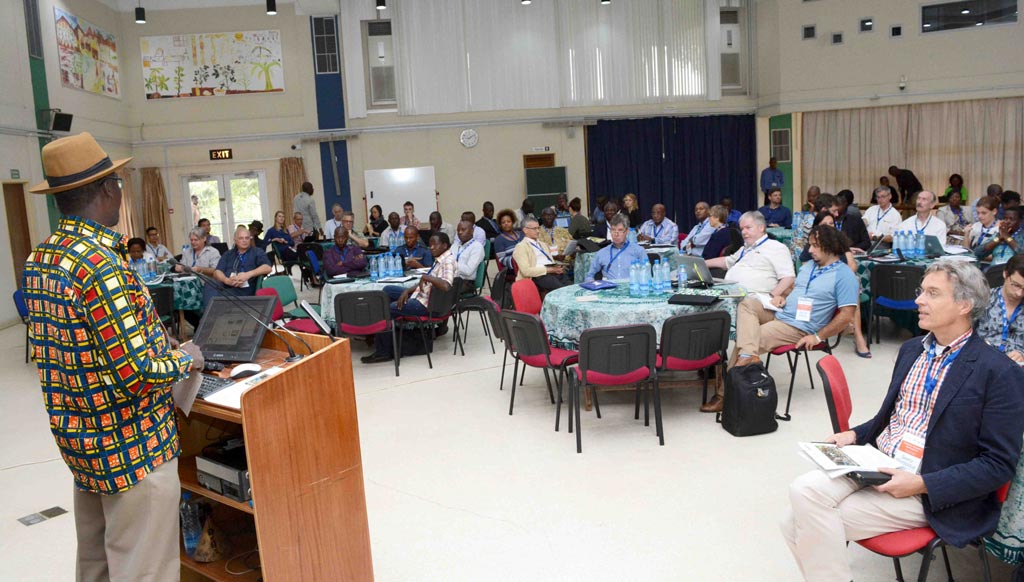 Humidtropics markets its legacy products to other CRPs
Humidtropics, in partnership with the Forum for Agricultural Research in Africa (FARA), organized a "Systems Marketplace" workshop on 15-17 November at IITA, Ibadan. It showcased its portfolio of systems research legacy products for uptake in the new CGIAR Research Programs (CRPs).
The more than 100 specially invited participants included leaders and researchers at the CGIAR System, Center and Program levels, representing subject, organizational, and cultural variety. For three intensive and productive days they shared their knowledge and experiences to facilitate integration of systems thinking, tools, methods, approaches and partnerships in other research for development (R4D) initiatives. This is especially important for the transformation of the current commodity CRPs into the next generation of "agri-food systems" (AFS) CRPs that start January 2017.
IITA Director General Nteranya Sanginga, during his welcome address, reiterated his strong history with and commitment to integrated systems research. He said that even though CGIAR will no longer fund stand-alone systems research programs in its new portfolio, IITA will continue to support systems research and site integration efforts to successfully help with Africa's agricultural transformation agenda, and encouraged the participants to do the same.
Sanginga said "I feel honored today, by the work of Humidtropics. Systems research has been shown to be very important for improving livelihoods of smallholder farmers, which is attracting the interest of governments and some key donors. I want you to look into the future, and see how adopting a systems research-for-development approach can help with the transformation of agriculture in Africa".
According to Kwesi Atta-Krah, Director, Humidtropics, the need to present key findings of Humidtropics in a special event in 2016, and also to learn
from 2nd cycle CRPs in relation to integration of systems approaches, was decided during its annual plan of work and budget meeting in 2015. The Marketplace event was organized in an innovative format, to produce maximum opportunities for interaction and discussion. As a marketplace, it consisted of 'sellers' and 'buyers' in interchanging roles, and with lots of opportunities for 'negotiation'.
Presenting an independent and general perspective on systems research in the new CRP portfolio, Professor Maggie Gill, Chair of the ISPC (Independent Science and Partnership Council) CGIAR, said that she came to learn what systems research products were on offer, and how new CRPs integrate systems approaches to enhance their contribution to achieving the development outcomes outlined in the CGIAR strategy and results framework. She said "I have to encourage the group, to consider the investments made, products realized, and approaches taken by the systems CRPs in the last five years that are important to continue to have impact on development".
The genesis of systems research and its integration into the new CRP portfolio was presented by Peter Gardiner, Director of Research of the CGIAR Systems Office. He was excited to see such wide participation and strong interest to share systems research products and lessons learned about its approaches for inclusion in CGIAR's future research.
Humidtropics Independent Advisory Committee (IAC) was represented by Christine Okali, former IAC Chair and independent researcher, and Prof Krishnamurty Sriramesh of Purdue University. Okali presented lessons learned from Humidtropics gender research on making sense of gender equity and women's empowerment. She said, "Integrated systems research is about people, women and men particularly, and their relationship to each other, it is about improving people's livelihoods, impacting on one another as individuals. CGIAR research has no value unless people are interested and gender norms considered". Sriramesh' presentation on partnerships and multicultural dimension in systems research concluded that evaluating and developing partnerships is both an "art" and a "science". He said "partnerships need to be better understood and draw from communication research as they are key to the success of CGIAR and its contribution to development outcomes."
Presentations were given by leadership and representatives of the various CRPs: AFS: Maize, Wheat, Rice, RTB, FTA, Livestock, and Nutrition and of GIP: CCAFS, WLE, and PIM. They focused on three key issues: (1) their perception on relevance of systems research, thinking and analysis in their CRP; (2) mainstreaming of systems research in their CRP, and; (3) opportunities for cross-CRP collaboration in systems research. Systems research experiences by others were also presented: Quang Bao, Drylands Systems CRP; Asamoah Larbi, Africa RISING; Sylvain Perret, CIRAD.  Legacy products, experiences, and approaches were shared by a larger number of researchers in plenary and marketplace sessions. The world-café style poster session which engaged participants in small group presentations and discussions on the research they did was especially exciting and meaningful and was one of the highlights of the event.
Experiences with the management of Humidtropics' place-based research were shared by its Flagship Managers: Lisa Hiwasaki (Central Mekong), Rein van der Hoek (Central America and Caribbean), Latifou Idrissou (West Africa), and Chris Okafor (East and Central Africa). The importance of investing in multi-stakeholder processes such as R4D and innovation platforms and the need for solid monitoring, evaluation and learning in relation to spawned research activities were emphasized. These on-site lessons with implementing results-based management (RBM) to enhance performance, transparency, and accountability was preempted by a presentation on critical perspectives on implementing RBM based on Humidtropics experiences by Eric Koper, Chief Officer Management, Humidtropics, IITA.
The event considered ways of future communication in the shape of a Virtual Community of Practice (COP) that would serve as an exchange for systems research experiences that are now integrated into the various CRPs and other initiatives.The COP aims to nurture a network of systems researchers that contribute to an increasing body of knowledge and lends opportunity to interact. The core partners of Humidtropics: IITA, ILRI, CIAT, ICRAF, IWMI, CIP, Bioversity, WUR, FARA, AVRDC and icipe) were appreciated for the progress made in the various initiatives.
The closing thoughts and perspectives on the marketplace event were given by the Hon. Adolphine Muley, Minister of Agriculture, South Kivu, DR Congo, Peter Gardiner, Graham Thiele, CRP Director RTB, and Journalist Sola Aderele. They gave rich insider and outsider  perspectives on the importance of integrating systems research in helping to transform food systems and address important development needs while acknowledging that there is still much more to do and learn.