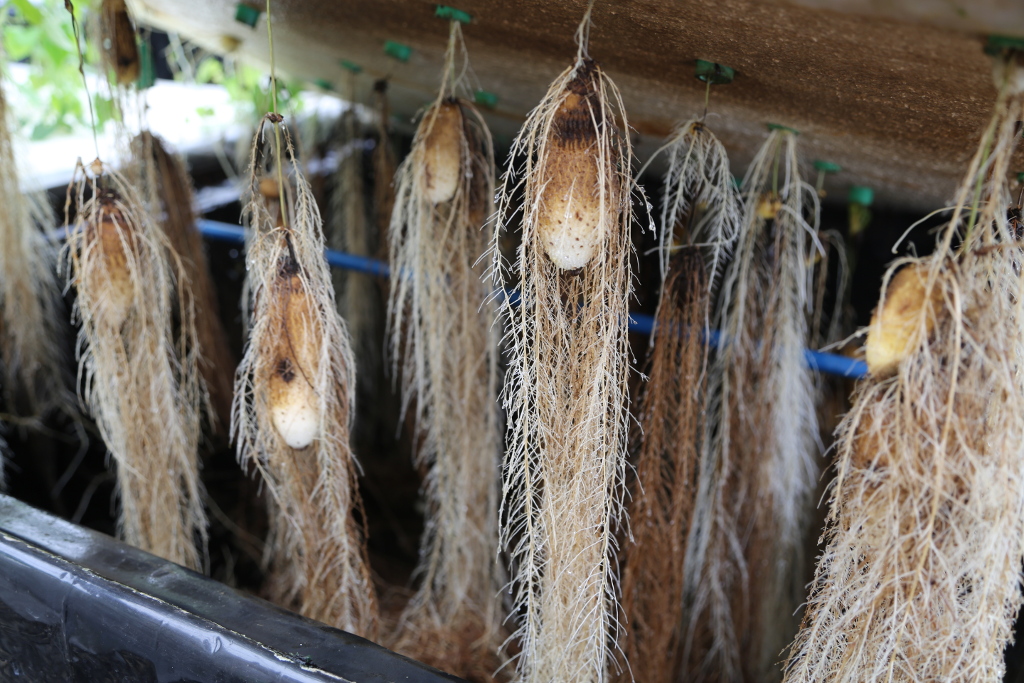 Initiative announced to improve and make high quality seed yam available
The availability and accessibility of high quality seed yam of improved varieties are the focus of a new US$12 million project aimed at revolutionizing the yam production system. This is intended to transform the formal seed systems in Ghana and Nigeria, Africa's largest exporter and largest producer of yam, respectively.
The flagship yam project, Yam Improvement for Income and Food Security in West Africa (YIIFSWA), will embark on a second phase to boost the production of certified seed yam and improve smallholder farmers' access to high quality seed yam for improved productivity, income, and food security.
YIIFSWA-II, a five-year project funded by the Bill & Melinda Gates Foundation, will be led by IITA in collaboration with Context Global Development Network/Sahel Capital, and the governments of Ghana and Nigeria targeting the private seed sector. The aim is to provide smallholder farmers with high quality seed tubers of improved varieties that have been released, for example, TDr 89/2665, which farmers have dubbed as "the Wonder Yam" in Nigeria due to its high yield and resistance to diseases.
Nigeria and Ghana's formal yam seed markets are underdeveloped due to a combination of factors, including inefficient seed production, distribution network, and quality assurance systems, as well as bottlenecks caused by a lack of good seed policy on key issues such as access to credit for inputs. In Nigeria alone, 3 million hectares of land are dedicated to yam production annually. This will require the production of about 30 billion seed tubers annually!
YIIFSWA-II is an ambitious private sector-led seed system development effort that aims to improve the livelihoods of at least 1.6 million people who depend directly on the yam value chain (including seed and ware yam producers, processors, marketers, transporters, and consumers). The project will initially focus on supplying 161,000 households in Ghana and Nigeria with improved, high quality yam seed.
According to Norbert Maroya, YIIFSWA Project Leader, "The key goal of this project is to promote and boost the production high quality seed tubers of improved varieties by outscaling key breakthroughs from YIIFSWA-I. These include the (i) use and promotion of the novel high ratio propagation technologies (Temporary Immersion Bioreactor System [TIBS]) for pre-basic seed yam tuber production by the national agricultural research institutes NARIs) and the aeroponics system (AS) for basic seed yam tuber production by private seed companies; (ii) implementation of quality standards approved by the regulatory bodies of the two countries using the yam quality management protocol (YQMP) for certification of pre-basic, basic, and certified seed yam planting materials; and (iii) implementation of improved seed health management strategies incorporating virus elimination techniques and indexing for quality control and certification especially at pre-basic level by partners in the breeding institutions."
"To realize the vision of an economically sustainable, commercial yam seed system in Nigeria and Ghana, Context Global Development Network and Sahel Capital—both consulting firms―will provide business advisory support towards establishing appropriate business models and strengthen the business skills of the private seed companies engaged in using AS for high quality basic seed production. This will particularly help women who are engaged or interested in seed production for commercial purposes. We would like to encourage them to pursue commercial opportunities for basic seed yam production using AS. The inclusion and specialization of players along the seed yam value chain will promote competitiveness and sustainability of the commercial seed system," said Maroya.