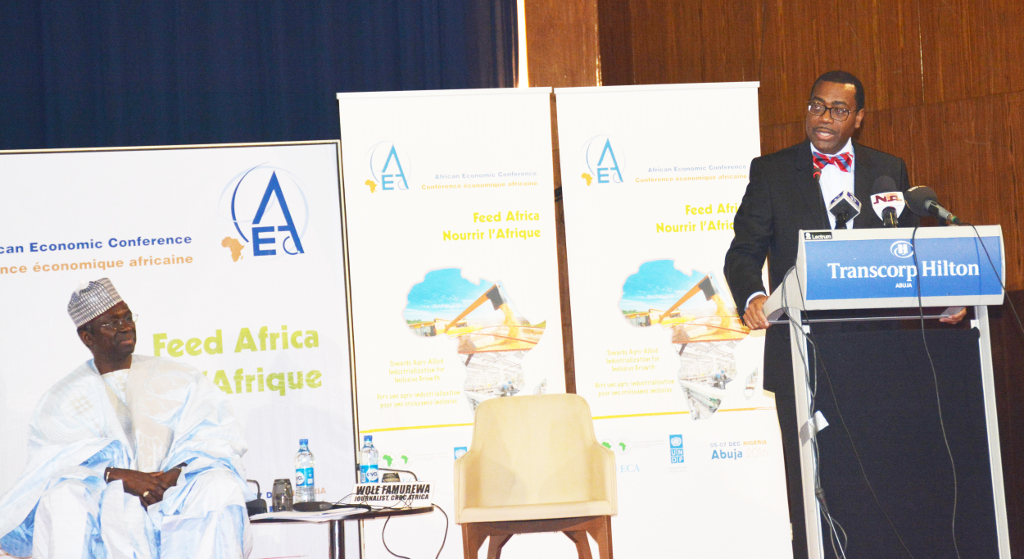 African youth are capable of revitalizing agro-allied industries
The president of the African Development Bank, Akinwumi Adesina, has reiterated his support for Africa's youth, saying that if given the chance to participate effectively in agro-allied industries, they will rejuvenate the agriculture sector, create wealth, and become gainfully employed.
Adesina gave the opening talk at the African Economic Conference (AEC) held in Abuja on 5 December.
This year's AEC titled Feed Africa; Towards Agro-Allied Industrialization for Inclusive Growth focused on means of unlocking the potentials of agro-allied industrial development in Africa.
At the opening ceremony, Adesina stated that agriculture, which contributes over 28% of the GDP of Africa, holds the key for the accelerated growth, diversification, and job creation for African economies. He added that no region of the world has moved to industrialized economy status without passing through the transformation of the agricultural sector.
"Africa sits on huge potential in agriculture. It is estimated that 65% of all the uncultivated arable land left in the world, to feed 9 billion people by 2050, is in Africa. So, what Africa does with agriculture will also shape the future of food globally," he said.
"The way out of the state in which the sector has found itself in the continent is for everyone to treat agriculture as a business and take the full value chain approach to modernize the sector."
Making a reference to the IITA Youth Agripreneurs model in Africa, Adesina stated that the youth through the opportunity given to them by IITA, are diversifying, innovating, and rebranding the agriculture sector. "The steps taken by these youth and many of their colleagues spread across the continent are part of the contribution needed to change the agro-industrialization."
"In the Democratic Republic of Congo, young graduate entrepreneurs from IITA have taken up the business of using cassava flour for bread and confectionaries. These young entrepreneurs are laughing their way in riches to the Bank. On Friday last week, I received a large delegation of IITA Youth Agripreneurs at the Bank. A young graduate, Noel, from Bukavu in DRC, together with his colleagues, have moved into agribusiness. In just a little over one year, they manufacture cassava flour, well packaged and standardized for bakers. Today, Noel and his team generate an income of $4,000 per week, or $16,000 a month, or $196,000 per year. That means they are making over 78 million Naira, annually. They are already multi-millionaires. He that has ears let him hear: The key to Africa's prosperity is value addition in agriculture, in turning our products to money, in looking inwards. Africa must feed itself," he stated.
This initiative and many more are the technologies needed for Africa to feed itself. He said the technology, however, needs to be outscaled for widespread adoption by farmers.
He stated that the bank will be launching an $800-million initiative – Technologies for African Agricultural Transformation (TAAT) – with the goal of reaching 40 million farmers over 10 years.
All these will improve agro-allied growth in Africa and also help reduce food importation in the continent.
"Africa spends $35 billion annually importing food. As it does, it decimates its own agriculture, spends scarce foreign exchange importing what it can and should produce, exports jobs, and makes itself subject to price effects from global commodity supply shocks. Estimates show that the food and agribusiness sector is projected to grow from $330 billion today to $1 trillion by 2030. The key is to unlock this opportunity. Our goal is simple: support massive agro-industrial development all across Africa. To make this happen, there is need for well-directed public policies to provide incentives to the agricultural sector, especially agribusiness and food manufacturing companies. And when that happens, Africa would have turned the corner, and taken its rightful place as a global powerhouse in food and agriculture. Now, let's make that happen," he said.
Speaking at the conference, the Vice-President of Nigeria, Yemi Osinbajo, said the conference came at a point when Nigeria was intensifying efforts to diversify its economy. He said the recent support of $600 million provided by AfDB represents the first tranche of the planned $1 billion support to Nigeria and will certainly go a long way in helping the country to further pursue reforms in the agricultural sector as well as the energy sector, both of which are crucial to inclusive economic growth and development.
"We have decided as part of our Strategic Implementation Plan for this year to prioritize the processing of tomato paste so as to become self-sufficient. The choice of tomato is predicated on our ability to produce tomatoes in large quantities several times a year as well as its extensive use in Nigerian meals. There is of course the opportunity to generate a large number of agricultural jobs and also as a means to adding value along the agro-allied chain," he said.