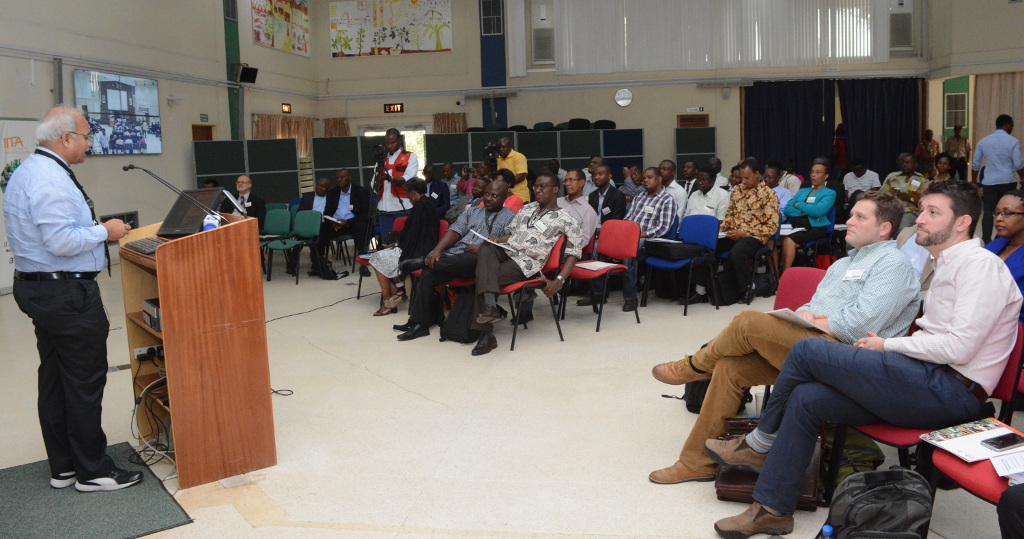 aTTC project set to multiply yields and income of smallholder farmers
Triple yields with a better income await maize and groundnut smallholder farmers, thanks to a project—aflasafe Technology Transfer and Commercialization (aTTC)—that will facilitate farmers' access to aflasafeTM, an innovative solution for the control of aflatoxin.
The aTTC project was launched at IITA, Ibadan, on 1 December to create awareness about the technology, and look for partners. The project aims to reduce aflatoxin contamination in food and feed and thus contribute to improved food safety through the use of aflasafe. This will be achieved by increasing the availability and accessibility of aflasafe through improved access to markets for aflatoxin-safe maize and groundnut.
More than 100 participants from farmer-based organizations, research institutions, Ministries of Agriculture, regional economic communities, and private sector actors were in attendance.
Speaking at the opening ceremony, the IITA Deputy Director General, Partnerships for Delivery, Kenton Dashiell, emphasized the importance of the private sector in getting the technology to the masses. He said, "to get the product to the users, we need many companies, millions of small-scale farmers, and distributors, who know what aflasafe can do to apply it. We are passionate; we are excited because we are on the edge of seeing this happen".
Also speaking at the event, Amare Ayelaw, the Program Manager of the Partnerships for Aflatoxin Control in Africa (PACA) of the African Union, highlighted the need for disseminating the innovation to farmers. "In Africa, farmers produce highly contaminated crops, which cannot be exported. They therefore need research technology like aflasafe that can meet their standards and nourish their families", Ayelaw stated.
Peter Cotty, a Research Plant Pathologist and Adjunct Professor from the University of Arizona, who is co-lead of the aflasafe initiative, said that private sector, governments, and agencies that control imitation of food products are needed to partner with IITA to manufacture the aflasafe technology. "Agencies for food control, private sector players, and governments need to come together and partner with IITA to ensure the constant availability of the product, and limit the imitation", Cotty emphasized.
Explaining the importance of partnerships in enhancing delivery of aflasafe products, Ranajit Bandyopadhyay, IITA Plant Pathologist, and co-leader of the aflasafe initiative stressed, "This product is indigenous! Developing the technology was not difficult, taking it out to the end users is the challenge, and therefore, partnership is very crucial". On ways of sustaining and improving the accessibility of the aflasafe product, Matieyedou Konlambigue, the Managing Director,
aTTC, said: "We look forward to working with the national governments and private sector on this project, to make aflasafe available and accessible to farmers, to improve the food safety and income of farmers".
The aTTC project is designed to identify strategic options for partnerships with private companies, and/or government entities, execute those partnerships, and help ensure that aflasafe products reach millions of farmers throughout sub-Saharan Africa.