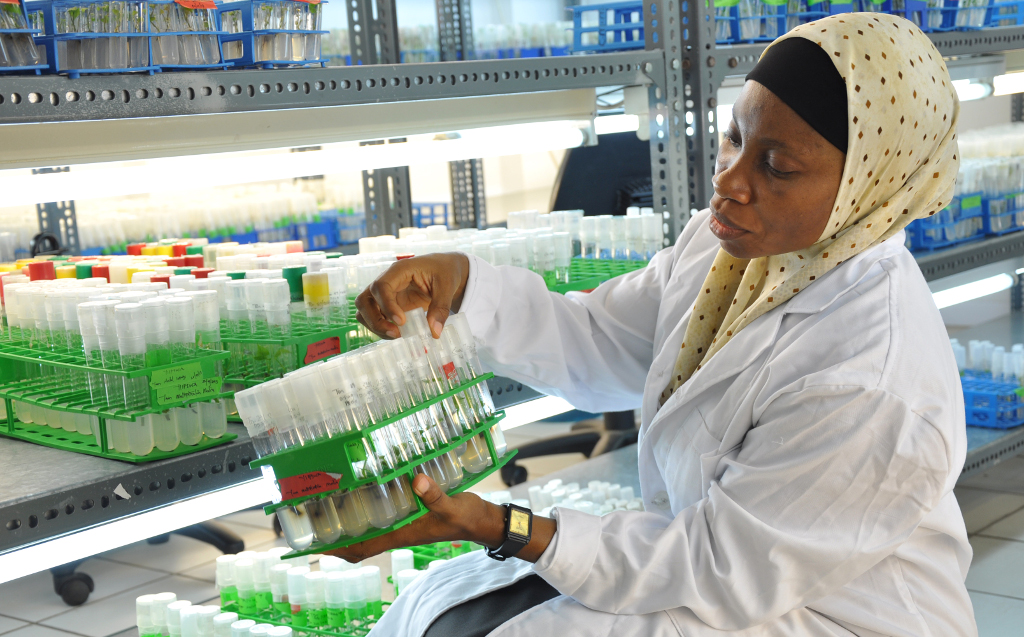 YIIFSWA scientist honored by research community
Morufat Balogun, Tissue Culture Specialist with IITA's Yam Improvement for Income and Food Security in West Africa (YIIFSWA) project has won the 2016 edition of the International Institute for Training, Research and Economic Development (IITRED) prize. The award recognizes her study on Absorbent kenaf materials and method of making and using same; development of high yield kenaf varieties as an outstanding agricultural research.
Balogun's paper went through a rigorous selection process and was adjudged the best for the year.
The award was officially conferred on 1 December at the NICON Luxury hotel in Abuja with the DG, Nteranya Sanginga, ably represented by Gbassey Tarawali, giving the keynote paper on "Creating youth employment in Nigeria through agriculture".
During the conferment ceremony, Balogun made a presentation on Status and prospects for regreening the Niger Delta using home-grown kenaf.
"The research work is timely to the continent as it would assist in addressing environmental remediation, specifically the cleaning of oil spills, and improving seed systems in agricultural production. This is in addition to the economic impact this research would create," Sani Dawop, IITRED President/CEO, said.
Balogun's collaborative mutation breeding efforts have led to the registration and release of the high-yielding, photoinsensitive variety IKEKEN DI 400, adapted to Nigeria's agroecology. Stems of kenaf grown in Nigeria were processed into absorbents that will absorb eight times its weight of oil and related liquids and can be used for cleaning oil spills efficiently. All these highlight genetic resource conservation and improvement, biotechnology applications, networking and partnerships, patenting, and mentoring.