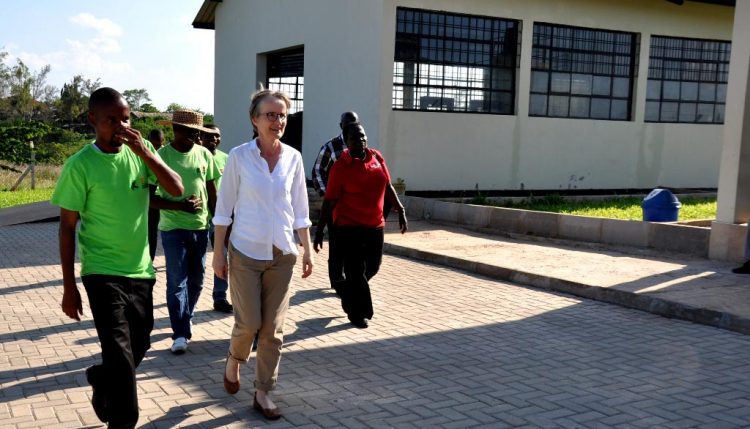 IITA DDG tours Ethiopia, Kenya, and Tanzania
IITA's Deputy Director General for Research for Development (R4D), Ylva Hillbur was last week on a tour of the Eastern Africa hub where she visited Ethiopia, Kenya, and Tanzania and met partners and staff of the Institute.
In Tanzania, the DDG toured IITA's field sites, offices, and laboratories in Dar es Salaam as well as met staff and the Tanzania Youth Agripreneurs who briefed her on their activities. While addressing the staff, Hillbur said she was impressed with the research atmosphere in the new science building.
"I first visited the hub when the science building was under construction, then at its inauguration in 2013. Now I am glad to see it fully functioning with many new scientists and students. I have toured the various laboratories―soil, food technology, plant pathology―they are impressive," she said.
"I have also toured the fields and seen the cassava trials under the 5CP project seeking to address cassava brown streak disease."
Hillbur commended the efforts of the Social Science team that is leading the Institute's efforts to monitor progress on its key performance indicator on measuring poverty reduction in sub-Saharan Africa as a result of adoption of IITA technologies.
She also commended efforts by the Gender team led by Amare Tegbaru, who is also based in Tanzania, to guide the Institute in conducting quantitative research and addressing gender issues in agriculture.
Representatives of the Tanzania Youth Agripreneurs briefed Hillbur on their efforts to develop their enterprises―including processing of soybean into soymilk and yoghurt and cassava into high quality cassava flour—and to change youth's mindset towards agriculture in Tanzania. Hillbur visited them at their training and processing center constructed by the Support to Africa Research and Development–Strategic Crops (SARD-SC) project funded by the African Development Bank (AfDB).
Team bids Hillbur goodbye
The team in Tanzania also took the opportunity to formally bid Hillbur goodbye―she will be leaving the Institute early next year to take up a new leadership position with the Swedish University of Agricultural Science―and to congratulate her and wish her all the best.
"Next year you may be very busy with the handing over and you may not have time to visit us to say goodbye. I therefore take this opportunity on behalf of the staff and millions of smallholder farmers in the continent whom we are serving, to say thank you for the good leadership you have provided to the Institute's R4D. You directed us by convincing us and not imposing," said Victor Manyong, R4D Director for East Africa Hub.
On her part, Hillbur said that leaving IITA was one of the most difficult decisions she has ever made as she enjoyed her work at the institute and there was still so much to do. However due to both professional and personal reasons she had accepted the offer from the Vice-Chancellor to take up a new position at the university.
Ethiopia and Kenya
In Ethiopia, Hillbur visited Holetta National Biotechnology Center of the Ethiopian Institute of Agricultural Research (EIAR) which is partnering with IITA on a project to transform Enset and confer resistance against banana wilt. This was based on the success that the Institute had achieved in transforming banana for resistance against the same disease. She also met the Deputy Director General of EIAR and other senior staff.
In Nairobi she attended a planning meeting of the Enset transformation project.