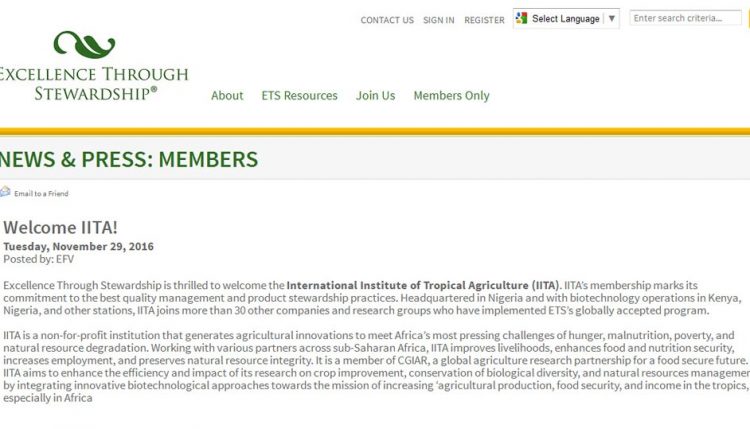 IITA joins ETS
The Institute has joined the Excellence Through Stewardship (ETS) platform. ETS is a global not-for-profit organization that promotes the universal adoption of stewardship programs and quality management systems for the full life cycle of agricultural technology products.
In a welcome post on 29 November, ETS wrote:
Welcome International Institute of Tropical Agriculture!
Excellence Through Stewardship is thrilled to welcome the International Institute of Tropical Agriculture (IITA). IITA's membership marks its commitment to the best quality management and product stewardship practices. Headquartered in Nigeria and with biotechnology operations in Kenya, Nigeria, and other stations, IITA joins more than 30 other companies and research groups who have implemented ETS's globally accepted program.
IITA is a non-for-profit institution that generates agricultural innovations to meet Africa's most pressing challenges of hunger, malnutrition, poverty, and natural resource degradation. Working with various partners across sub-Saharan Africa, IITA improves livelihoods, enhances food and nutrition security, increases employment, and preserves natural resource integrity. It is a member of CGIAR, a global agriculture research partnership for a food secure future.