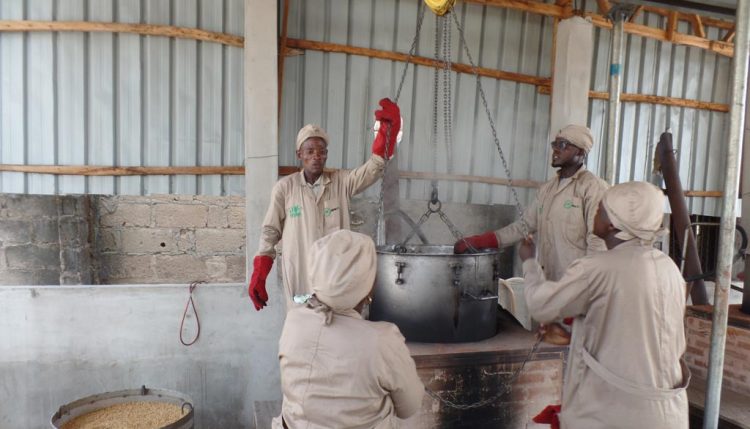 Installation of GEM rice parboiling technology improves local rice production and business in the Lafia IP
The SARD-SC rice commodity value chain, executed by AfricaRice, in collaboration with National Cereals Research Institute, has installed energy efficient GEM rice parboiling technologies and innovations in the Lafia Innovation Platform, Nasarawa State, Nigeria. In addition, a total of 1,215 rice parboilers, including 915 women and 300 men, were trained on processing and value addition of locally produced rice and the efficient use and management of the GEM rice parboiling technologies.
The formal launch of the Lafia IP took place recently and was attended by the IITA/SARD-SC project Coordinator, Chrys Akem and AfricaRice representative in Nigeria, Francis Nwilene.
Akem remarked that the SARD-SC project has faced challenges in effectively addressing gender equity on the active involvement of women in project activities. He noted that the deployment of the GEM rice parboiler in the Lafia IP has fully demonstrated that pairing gender-sensitive technologies with a positive institutional change can significantly bring about gender mainstreaming into agricultural projects.
The representative of the Emir of Lafia, Hassan Ahmed, pledged support and commitment from the local authorities for the progress of the IP.
As part of the IP process, the capacity of 37 youth groups has been developed in rice processing and value addition as well as operation of equipment and farming tools. The Lafia IP also received a milling machine and other farming equipment from AfricaRice through the Japan Emergency Rice Initiative.
To date, over 1,200 women households have been reached through the GEM technology and innovations in the IPs in Nigeria. The GEM is being rolled out in combination with enhanced packaging and branding of locally produced rice to attract urban market rice-consuming households and contribute to raising incomes of women and employment opportunities for youth in the rural economy. Significant changes have been observed in Nasarawa as a result of the GEM installation and training: improved quality of parboiled local rice, increased incomes, job creation, positive mindset towards collective action, and improved well-being of rice parboilers who are members of the IPs.
The quality of the parboiled rice is already attracting consumers within and outside the community of Lafia. A total of 249 customers bought IP rice for consumption while 50 bought for trading. The chairman of the Lafia IP, Jonathan expressed his satisfaction thus: "We like the efficiency of the GEM facility and the new methods to process rice. With the installation of the GEM facility combined with the training on its use, our members have changed their mindset in rice processing and they have adopted good processing practices."
Furthermore, other rice farmers outside the IP have started reaping the benefits of their training on the use of the GEM technology at the individual household level. One such people is Martha Shagar, a member of the Women parboiler group, Ayimon, based in Lambaga village, Lafia. She said "I find the new methods and practices to process rice very useful and more efficient than our traditional processing activities. The quality of my rice is better than before and the profit also increased. With the new technology, I got a profit of 20,000 Naira on a bag of 120 kg. Thanks to the SARD-SC project and AfricaRice."