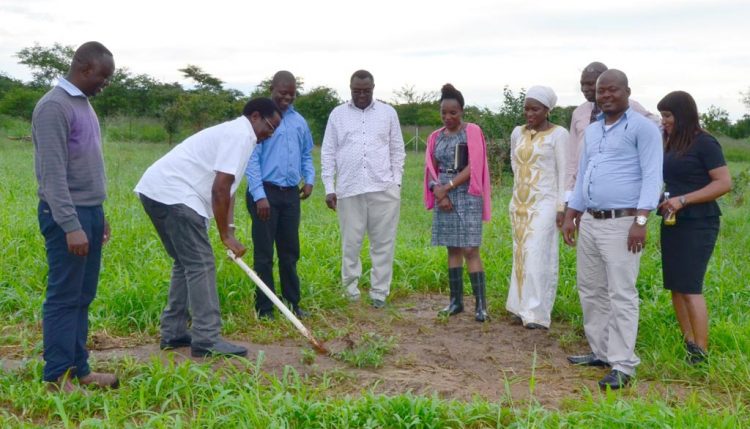 IITA-Zambia to get new modern maize seed storage facility
On 6 February, IITA-Zambia formally signed a contract with a local construction firm for the establishment of a modern maize seed storage and warehouse facility within the IITA Southern Africa Research and Administration (SARAH) campus in Kabangwe, Zambia, in the next 3 months.
The construction of the facility is being funded by the African Development Bank (AfDB) through its Support to Agriculture Research for Development of Strategic Crops (SARD-SC) project.
The contract signing was followed by a ceremonial ground-breaking at the facility's future site on-campus.
Construction work for the storage facility will begin on 15 February and is expected to be completed by mid-May. The facility is estimated to cost some 1.1 million Zambian Kwacha, or about US$110,000.
David Chikoye, IITA Regional Director for Southern Africa, indicated that the storage facility will further boost our capabilities to more efficiently deliver much needed seed-related services to maize smallholder farmers not only in Zambia but also within the southern Africa region.
"One of the current challenges is that we lack a proper storage facility for seeds. Without proper storage, the viability of seeds suffers and consequently, lead to less-than-ideal crop productivity," Chikoye said.
"This seed storage facility—once completed—will help catalyze our efforts to realize IITA's mission and vision in the country and in the region," he added. Addressing the contractor, he emphasized, "With this construction job, you are actually contributing towards addressing hunger and poverty in Zambia. So do a good job."
Chikoye also revealed plans for further strengthening the SARAH research facilities in 2017.
"We moved to this campus barely a year ago, and while dealing with 'teething' issues we continue to augment our research infrastructure as expeditiously as we can with available resources," Chikoye explained. "For example, we are just now putting the finishing touches on four screenhouses. And apart from the seed storage facility, we are also aiming to build a tissue culture laboratory within this year."
"Of course, none of these would be possible without the continuous support of our partners and donors. Specifically, I would like to thank the AfDB for funding the construction of the seed storage facility. It's always a good feeling that we can always count on our partners to benefit our smallholder farmers."
"Indeed, exciting times are ahead for IITA-Zambia and SARAH, so keep watch," he ended.