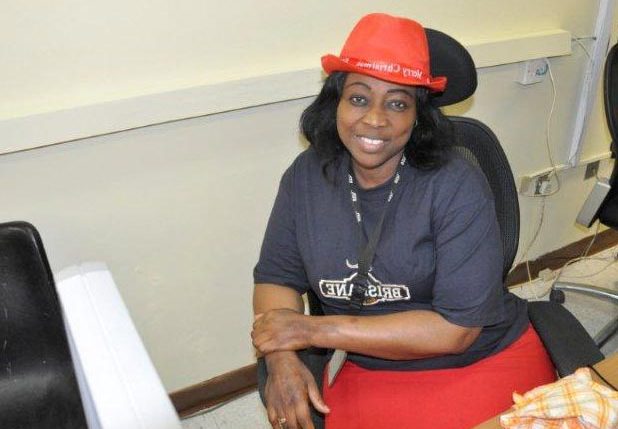 IITA family gears up for its 50th anniversary celebrations
The vibe is turning intense in all IITA stations as staff and scientists prepare to celebrate the Institute as it turns golden this year! So, Communication went round HQ and asked staff how they feel about being a member of the IITA family. Many shared their journey, consisting long, rich years of service to the Institute and wished the Institute well for this anniversary and beyond. Watch out for more interviews next week!
Adeola Akintoye
Project Accountant
My best wishes go to the IITA family as we celebrate our 50th anniversary. IITA is a veritable hotbed for crop research excellence in sub-Saharan Africa. I am grateful for the current leadership as well as the board of trustees. The achievements so far recorded in the last 50 years have contributed tremendously to finding solutions to hunger, malnutrition, and poverty in Africa.
I joined IITA in 1990 and it has been exhilarating to observe the growth of the organization into a dynamic entity that has a powerful influence on research to nourish the teeming population of Africans and as a result uplifting the lives of thousands of youths who have the privilege of working, training, or doing research with excellent scientists across our hubs in Africa. Many thanks to all our outstanding leaders, who charted the course for IITA during the formation of our history.
Maria Olukemi Akinlotan
Officer, Front Office, I-House
I joined IITA on 1 August 1985 and started as a secretary. Since then, I have risen through the ranks and now work at the I-House front office. Believe me this role has been a very big change in my life. I am happy working in I-House because it has given me the opportunity to relate to different classes of people from different backgrounds, religions, and countries. I am so happy to be a part of the IITA team, working hard to eliminate poverty all around Africa, I am also so happy to be a part of the 50th anniversary because I was part of the 20th celebration. I wish IITA long life and success.
Alidu Sule
Mechanic 3, FMS
I started working for IITA in 1979. At the time, I was employed as an assistant mechanic in the workshop. January 2017 made my service at IITA 39 growth-filled and fulfilling career years. So I am wishing IITA the very best of the best because it is actually the best.
Mercy Asiquo Ewang
Clerk Typist, I-house
I joined IITA in 1986, worked in Lagos at the Ikeja Guest House as a casual, and became a staff in 1989, then moved to IITA-Ibadan in 2008. IITA today is far different from IITA of some 10-20 years ago: everything has changed and work is easier now with a lot of smiles on our faces. It gladdens my heart to see growth with greatness; I wish the Institute continuity in the good work of nourishing and transforming Africa's agriculture.
Adeyemo Beatrice Folakemi
Computer Operator, Supply Chain
I am happy to be in IITA, I started 25 years ago and have been working hard to contribute to the goals of the Institute. With what I do, there has been a lot of developments in computer applications, like IITA has changed from Alpha programs to very well upgraded softwares and apps that are really making work easier and more productive for us. I wish IITA more positive changes and growth. I also wish IITA more power to put smiles on people's faces not only in IITA but around the world. I thank the administration of DG Nteranya Sanginga, the scientists, and the workers. I wish IITA greater heights and to always be at the top. I am also grateful to our donors and partners. It has really been a long cruise but we sailed through. Long live IITA!