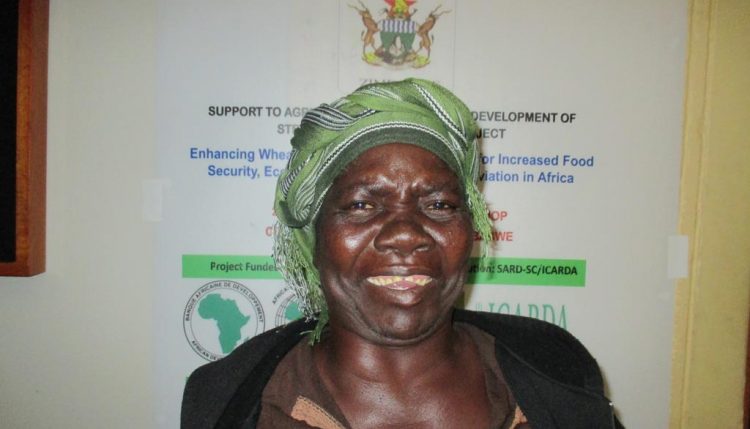 SARD-SC beneficiary declared best female wheat farmer in Zimbabwe
When Sabina Nyahuye, a wheat farmer from the Hwedza Innovation Platform of the SARD-SC Wheat project, started wheat farming 20 years ago, she says wheat harvests and the market were just okay. However, after years of farming the crop on her 2-hafarm, yields began to drop.
"I almost gave up wheat farming in 2009 when challenges became too many," says Sabina. Access to seed and other inputs coupled with poor agronomic practices were some of the main challenges she was facing. "I reduced my wheat farm from 2.0 ha to just 0.2 ha and in fact I know of many people from my village who gave up entirely," she adds. Sabina's farm is in Hwedza District, in the province of Mashonaland, 130 kilometers south of Harare, Zimbabwe.
Three years ago (in 2013) the SARD-SC Wheat team in Zimbabwe, working with the country's Department of Research and Specialist Services (DR&SS) in the Ministry of Agriculture, Mechanization and Irrigation Development, visited Sabina's home area and shared with the local leaders their vision on how they could revive wheat farming. Once the local leadership accepted their proposal, they established demonstration sites for various wheat varieties and farming practices in schemes across the district. Sabina and several farmers in the area were trained on best practices of wheat production techniques. They were taught proper watering, soil nutrient management by rotation with legumes, proper land preparation (combining tractor with oxen plow), and proper seed spacing.
The farmers were given an opportunity to evaluate for themselves the performance of varieties in the demonstration farms and after that got farm inputs to try the varieties and practices on their farms. With this knowledge and new varieties and inputs, Sabina's wheat production has increased dramatically.
"By 2014 my output had doubled from 2 t/ha to 4.2 t/ha and by 2016 had risen further to 8 t! That is why I was declared the best female wheat farmer in Zimbabwe," explains Sabina. As a result, Sabina was one of the smallholder wheat farmers given fertilizers and other farm inputs by the country's Permanent Secretary for Agriculture, Mechanization and Irrigation Development Hon. Ringson Chitsiko, recently, for their achievement.
Sabina sells her wheat produce for US$15 for a 20-kg bag. She sells wheat to her neighbors and in the local market. Sabina plans to expand production. Her success is gradually influencing other farmers in Hwedza to return to wheat farming.