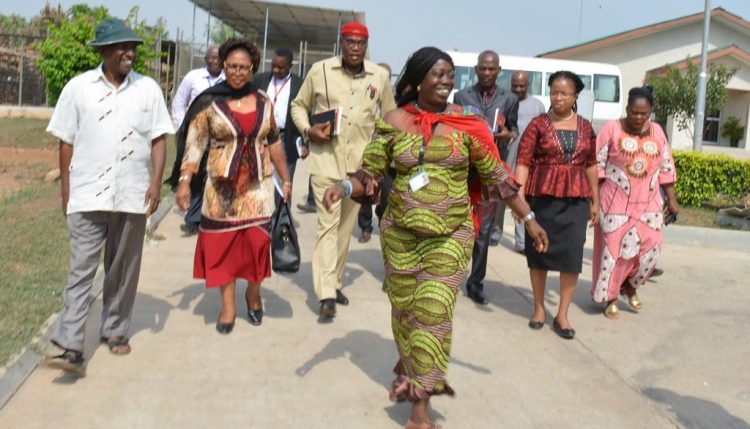 Ebonyi State delegates seek IITA's intervention to move the country's Zero Hunger goal forward
In continuance of the Zero Hunger Initiative which is geared towards unlocking the potentials of the country and ensuring the nation's emancipation from the shackles of hunger and poverty by 2030, a team of nine stakeholders in agriculture from Ebonyi State approached IITA on 16 March for guidance on a course of action.
Itapah Azuobu, Senior Special Adviser (SSA) to the State Government on Rice production, who spoke on behalf of his team, said they visited to strategize on the way forward and to also see how the state, predominantly known for its enormous rice production, could benefit from investing in the cassava value chain.
Kenton Dashiell, IITA Deputy Director General, Partnerships for Delivery, welcomed the visitors and expressed the Institute's commitment to sharing its expertise and technologies to help ensure that hunger is totally erased from Nigeria.
When asked to share his thoughts on IITA, in relation to the Zero Hunger Initiative, Azuobu stated, "We can see that IITA is well structured, highly professional, and properly managed. This gives us great confidence that we have the backing we need to reach our target by 2030. The State will tap into IITA's rich agricultural potential and together, join forces to lift over 13 million people out of hunger."
Azuobu also expressed hope that the State government will keep up its cordial relationship with the Institute.
"We hope to have a long and viable relationship with you (IITA), so that we can continue to benefit from the technologies generated by IITA. We have come and seen; we will now take home the message. Ebonyi State appreciates the warm reception it has received from IITA. Thank you," Azuobu concluded.
The Zero Hunger Initiative was launched in Nigeria earlier this year at Abuja. The launch ushered a new journey for the Nigerian people and for Africa as a continent. The five-year scheme commenced with four pilot states: Benue, Ebonyi, Ogun, and Sokoto. The project was established in IITA, with ex- President of Nigeria, Chief Olusegun Obasanjo as chairman of the Zero Hunger Forum.