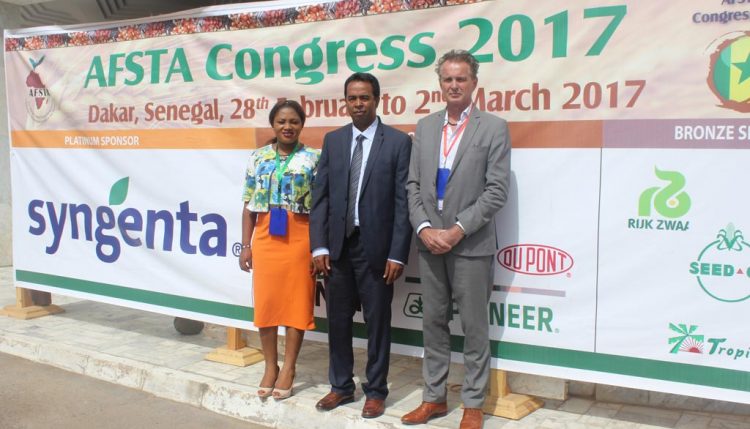 'GoSeed' to join the African Seed Trade Association
Africa still remains a minor player in the global seed trade, accounting for less than 2%. In recognition of the important role quality seeds could play in feeding Africa's teeming population statistically projected to exceed 2 billion by 2050, GoSeed—the arm of IITA's Business Incubation Platform (BIP) responsible for the production, marketing, distribution, and sale of quality certified seeds to farmers―has registered its interest in becoming a member of the African Seed Trade Association (AFSTA).
Leading a team from IITA to the 17th annual congress of the AFSTA which was held on 28 February to 2 March in Dakar, Senegal, Frederick Schreurs, CEO of BIP, expressed GoSeed's strong interest in joining the AFSTA noting that the organization could serve as the springboard through which GoSeed would be better positioned within the African seed industry. This is also an auspicious timing for GoSeed to benefit from the 6.8% growth representing $73 billion expected in the global seed market by 2021.
"Supplying reliable and adaptable quality seeds to the private sector is key to ensuring sustainable food security in Africa. And by putting the seed supply chain in place, farmers will get through GoSeed access to new varieties coming from IITA through seed companies. GoSeed will, however, not sell directly to farmers. Its role will be to produce basic, pre-basic seed, and if needed foundation seed for seed companies", said Schreurs.
David Ojo, IITA Soybean Scientist, also said that AFSTA will give GoSeed the needed promotion it needs in Africa.
"As a member of AFSTA, GoSeed will gain a lot in increasing its visibility, showcasing its products and technologies for additional profit not only in Nigeria but across AFSTA's huge seed business network in Africa", he said.
AFSTA connects its members with seed companies through which it shares information and promotes new seed varieties and technologies to a wide range of farmers. It is a not-for-profit membership association formed in 2000 to champion interests of private seed companies in Africa. Its mission is to promote trade in quality seed and technologies in Africa for the benefit of members and farmers. AFSTA is tirelessly working to ensure that the seed industry is adequately able to feed people.
"If you want your seed varieties and technologies to reach farmers through the seed companies, here is the ideal platform. AFSTA is the "go to" place members can exploit to get their seeds into farmers hands," said Justin Rakotoarisaona, Secretary General, AFSTA.
IITA plans to participate in the 2018 AFSTA congress, which promises beneficial opportunities in seed business to 800 delegates from all over the world. It will take place in Egypt.