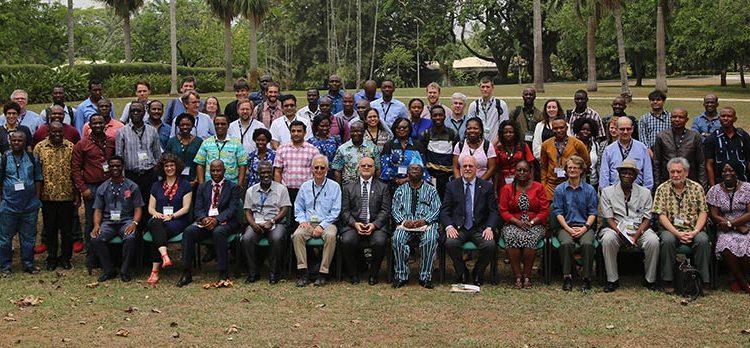 NextGen scientists "shoot for the moon" in cassava research
On 14-16 March, more than 80 international cassava experts met at the Next Generation Cassava Breeding (NextGen Cassava) annual meeting to report on and assess the outcomes of a five-year effort to improve cassava breeding as well as outline the next steps for a second phase of the project. The meeting was held at IITA in Ibadan, Nigeria, which is celebrating its 50th anniversary this year.
"What would be your moonshot?" Chiedozie Egesi, Project Manager of NextGen Cassava, challenged the attendees at the opening ceremony of the meeting. "As cassava breeders, what varieties do you want to get across to the farmers and end-users, and what is your strategy to get there?"
These questions framed the task for the participants, which was to identify the successes from the first phase of the NextGen project and devise strategies to address the challenges.
The scientists' goals are to unlock the full potential of cassava by utilizing modern breeding techniques to speed up the rate at which new varieties with desirable traits can be developed. This is done through genomic selection (GS), a technique that uses statistical models to predict how different cassava genotypes will perform in the field. Conventional cassava breeding methods can take 5 to10 years and require extensive trials. By using GS, breeders can more rapidly identify promising varieties and deploy them in field trials.
"Cassava is the second most important food crop in Africa, which is the global leader in food production," stressed Alfred Dixon, Director of the Development and Delivery Office for IITA, who delivered the meeting's keynote address. With Africa's rapidly growing population and an estimated food import bill of $110 billion by 2025, he said it is critical to make the production of crops like cassava more efficient, modern, and competitive.
Until now, the project has primarily focused on laying groundwork. This includes capacity building, surveys to identify end-user preferences, stronger collaboration among partner institutions, training models, and mapping key areas of the cassava genome to better understand traits like resistance to viral diseases, pests, and enhanced nutritional quality. Phase I established CassavaBase (http://cassavabase.org), an open-data breeding database where cassava breeders can upload and view genomic data from different experiments and partners.
Another clear success of Phase I was capacity building and training. "Without that important pipeline, long-term sustainable improvements in crop production will wither in the face of future challenges," said Ronnie Coffman, Cornell professor of plant breeding and genetics and Director of International Programs, who is the principal investigator on the multi-partner grant.
In Phase I, NextGen trained a total of nine PhD students (six at Cornell University and three at the West Africa Centre for Crop Improvement (WACCI), University of Ghana) and nine master's students at Makerere University in Kampala, Uganda. NextGen has also streamlined African breeding programs and reinforced collaboration between partners in the US, South America, and Africa.
"There is no doubt that science is critical for a transformational change of the cassava sector. And this is so because we now have more issues contending with the productivity of this root crop," said Olusegun Ayeni at the meeting's opening ceremony, speaking on behalf of the Hon. Chief Audu Ogbeh, Minister for Agriculture and Rural Development of Nigeria. "For us to tackle these challenges requires new breeding options that are quick and smart to address these emerging limitations."
A "model" for future crop research projects
"NextGen is a model for multi-partner, global research projects where scientists are looking to improve crops that could be critical for food security for smallholder farmers in the 21st century," said Coffman. "In Phase II, there will be greater focus on developing varieties that can then be tested and released to farmers, which many hope will improve agriculture for smallholder farmers in Africa."
Representatives from 10 institutional partners across six countries on three continents presented key findings and results from the first phase of the project at the meeting. These institutions include the Boyce Thompson Institute (USA), Embrapa (Brazil), the International Center for Tropical Agriculture (CIAT/Colombia), IITA (Nigeria), the National Crops Resources Research Institute (NaCRRI/Uganda), the National Root Crops Research Institute (NRCRI/Nigeria), the University of Hawaii (USA), the US Department of Agriculture-Agricultural Research Service, and the US Department of Energy Joint Genome Institute. Last year, NextGen Cassava expanded to include Tanzania, partnering with the Lake Zone Agricultural Research and Development Institute (LZARDI).
NextGen Cassava is funded from 2012 to 2017, with a $25 million grant from the Bill & Melinda Gates Foundation and the Department of International Development in the UK through their UK Aid program. NextGen is up for a 5-year renewal in 2018.  – contributed by Samantha Hautea, NextGen Cassava.