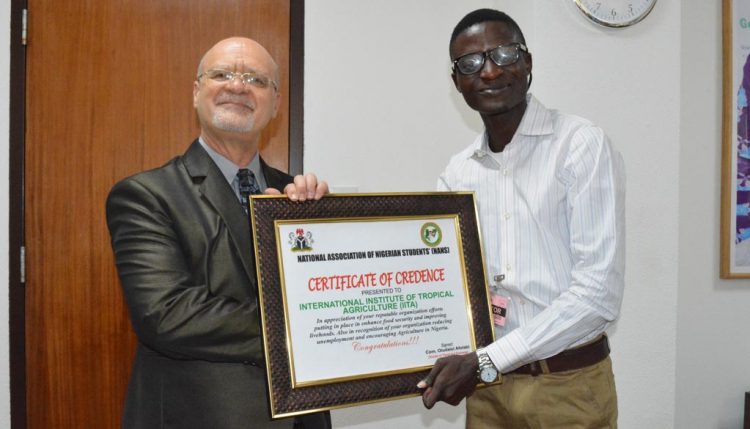 Nigerian students acknowledge IITA's efforts in alleviating unemployment
The body covering every Nigerian undergraduate has cited IITA for its excellent efforts in creating employment for Nigerian graduates every year. When members of the National Association of Nigerian Students – NANS Zone D (South-West), visited IITA in Ibadan, on 16 March, Oludaisi Afolabi, leader of group, said IITA facilitates employment for young people, and also generates agricultural innovations to help Africa surmount its greatest challenges—hunger and poverty.
Kenton Dashiell, IITA Deputy Director General, Partnerships for Delivery received the group. Dashiell counseled the students to keep working hard for the good of the country.
"IITA is partnering well with Nigerian graduates. We have discovered that graduates from the country are very energetic, talented, smart, motivated, and ready to work. IITA is convinced that this generation of young men and women are the ones that will take Nigeria to the level where it is supposed to be. IITA will do its part to help with that. Do not stop working hard. IITA will introduce you to its youth program, because it is relevant and based on modern agriculture; the program will teach you that agriculture is profitable."
Responding, Afolabi said, "Thank you for receiving us; we are here to acknowledge your good efforts in facilitating employment and food security and reducing incessant hunger in Africa. We also want to sustain our mutual relationship with IITA. Thank you again and well done."
The undergraduates were led to the IITA Youth Agripreneurs to see the involvement of youth in agribusiness, and learn how the youth create collective enterprises, in a gender-responsive manner. and generate income.
Impressed by what they saw, Afolabi, on behalf of the students, presented a certificate of credence to the Institute, for their efforts in improving livelihoods, reducing unemployment, and also transforming agriculture in Nigeria.