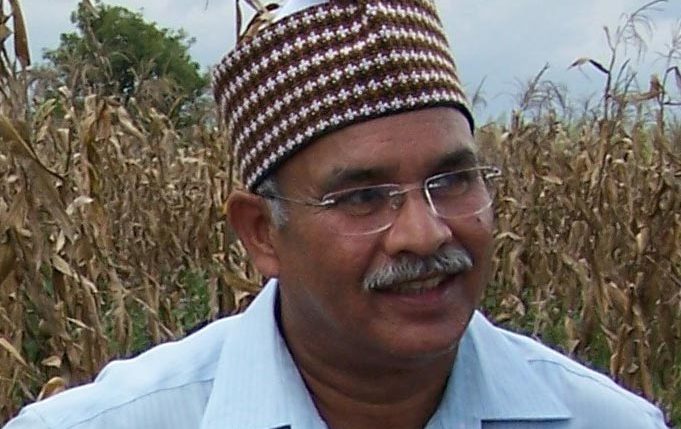 Two more feathers added to IITA's Aflasafe project's cap
When research on Africa's first indigenous biological control for aflatoxins began intensively in 2003, the scientists involved in its fabrication just wanted to help Africans have safer food on their table. Today, not only has Aflasafe been able to achieve this goal, it is also gaining world recognition as an eco-friendly product that effectively combats the hazardous effects of aflatoxin contamination in the field and storehouses of major food crops and one that does so amid the challenges created by climate change.
Recently, the Editorial Board of the foremost World Mycotoxin Journal awarded a paper submitted by Ranajit Bandyopadhyay, leader of the Aflasafe project at IITA, the "Best paper of the year 2016". The Open Access article entitled Biological control of aflatoxins in Africa: current status and potential challenges in the face of climate change explicitly details the current status and challenges of aflatoxin biocontrol research for development in Africa.
This award also offers the lead author a free subscription to the World Mycotoxin Journal for 2017. Read the Editorial Board's recognition of the lead author Ranajit and an assessment of how this laudable biocontrol technology is impacting African food production here.
In another development, the prestigious American Phytopathological Society (APS) announced Ranajit as the winner of its 2017 Excellence in International Service Award.
The Excellence in International Service Award is a special annual recognition, conferred on one outstanding member of the APS perceived to have significantly contributed to the development of the science of plant pathology outside his home country. APS judges members' contributions through collaborative projects, sabbaticals, and short- and long-term assignments with educational or governmental agencies, international centers, and research institutes.
Ranajit, an Indian, was selected as this year's winner for several significant contributions to the management of seemingly intractable diseases in many African nations, Brazil, and the US. He has sustained tremendous effort to drastically reduce the number of Africans who get exposed to aflatoxins, creating a positive impact on the lives of sub-Saharan African households.
Ranajit is the second IITA scientist to receive this laudable recognition after Kitty Cardwell, who coincidentally was Ranajit's predecessor at IITA, won the award in 2003.
Announcing the award, Ranajit expressed special thanks to IITA for creating a suitable work environment for the development of novel ideas.
"Much of what I did is a contribution of many people in various teams at IITA and elsewhere. However, IITA gave me the most encouraging and liberating workspace in my career. I have been most productive during the last 15 years that I have been at IITA. Many thanks to my colleagues and the IITA management for all the support," he said.
Ranajit will be officially conferred with the award during the award ceremony at the Annual Meeting of the APS in San Antonio, Texas on 6 August.
The IITA Director General joins the IITA family and friends of Aflasafe to wish Ranajit more success. A special congratulatory message from DG Sanginga read:
"IITA is so proud of your (Ranajit) achievements that we always celebrate.  I am sure more awards are coming. Congratulations and on behalf of IITA, thank you for your great work and the IITA spirit".
Aflasafe is indeed going places!