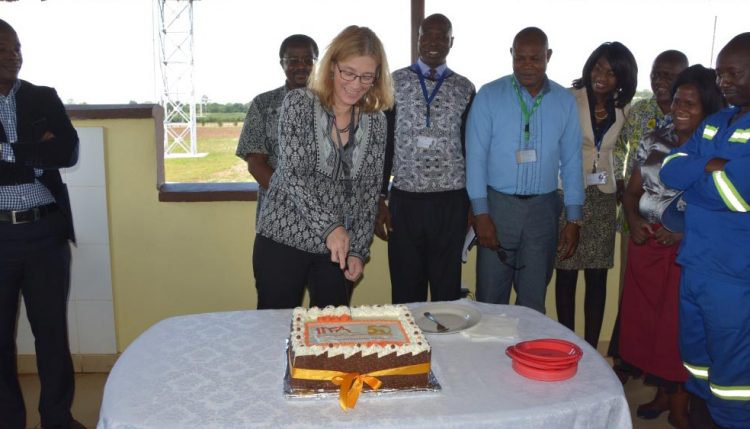 DDG-Corporate Services visits IITA-SARAH
Deputy Director General for Corporate Services, Hilde Koper-Limbourg, was at the IITA Southern Africa Research and Administration Hub (IITA-SARAH) at Kabangwe, Lusaka Province, Zambia 14 to 17 March as part of her familiarization and monitoring tour of the regional Hubs.
During her visit to IITA-SARAH, Koper-Limbourg toured the campus and facilities, and interacted with staff based in Zambia and in Mozambique (via video conference). Her discussions with regional management and staff highlighted, among other things, enhancing the efficiency of the various units under her directorate to ensure effective delivery of services to and within the regions to support R4D work. The DDG also focused on issues that relate to staff benefits, welfare, and professional development. She also discussed the results of the staff satisfaction survey carried out a few months ago across the Institute.
The DDG's visit also coincided with two events at IITA-SARAH: the first year anniversary of the movement of the SA Hub office to the SARAH campus on 15 March, and the completion of the training course of the Zambia IITA Youth Agripreneurs on cassava processing and utilization (see related story).
On the occasion of the former, Koper-Limbourg congratulated the Hub management and staff for a job well done on establishing and developing IITA-SARAH and its facilities. To commemorate the date, she led a simple cake-cutting ceremony along with David Chikoye, Regional Director for Southern Africa.
"It's my honor and pleasure to be here and share this memorable occasion with you all," she said, addressing staff. "The IITA Southern Africa Hub has really gone a long way in establishing a foothold in this country and in this region, particularly in developing the facilities here at SARAH."
"Rest assured that the Corporate Services Directorate, myself specifically, will always be on hand to support SARAH as we look forward to more years here in Zambia and in southern Africa," she reiterated.
"On behalf of the staff of IITA-SARAH, I would like to thank you for visiting us and joining us on our anniversary celebration of moving to this campus, and also for gracing the completion of the training of our ZIYA members," Chikoye told the DDG. "We also extend an open invitation to you to come and visit us again soon. I promise you, you will see even more improvements to SARAH the next time you come," he concluded.