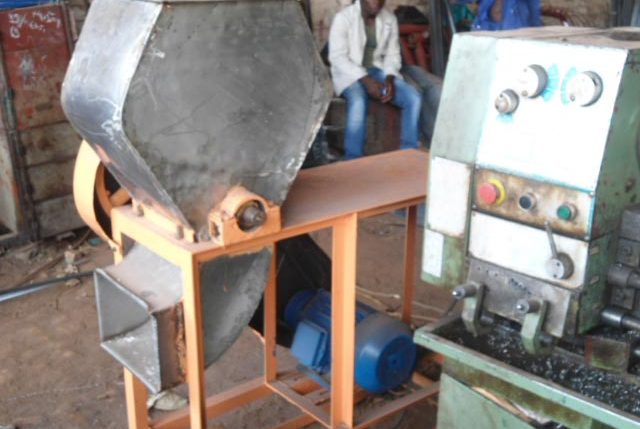 FMS refurbishes cassava processing centers and trains machine fabricators in DR Congo to reinforce its cassava value chain
IITA's cassava processing center in Kalambo, DR Congo, now wears an improved look, thanks to the intervention by members of the IITA Facility Management Services (FMS).
The upgrade exercise was led by Engr. Thierno Diallo, FMS postharvest engineer, who with his team helped improve the facilities to enable the delivery of effective services at the processing center with the support of the Management and staff of IITA Kalambo, and the SARD-SC team.
The center was erected by IITA to provide convenient services in processing cassava into flour and garri but was outsourced to a local vendor to supply and set up machines.
The problems included a poor drainage system, non-anchored processing machines, and poor installation of factory machines and other facilities. To correct these, three consecutive missions were funded by SARD-SC for FMS in June and October 2014 and July/August 2015.
"After FMS intervention, the Kalambo cassava processing center is in a better shape in terms of full control of the waste water, machine layout, and ease of operations. The cassava washing bay and garri frying bay are also now in greater shape," Diallo said.
Following this, the FMS team conducted training for local machine fabricators from Kalambo on the production, installation, and testing of cassava processing machines; helping to determine the cost of buying materials; and fabricating and selling basic cassava processing machines in Sud Kivu.
Of the trained fabricators, the best five were certified by the IITA team. With the knowledge from the training, the fabricators immediately developed their first cassava processing machine. These fabricators are now able to produce, deliver, and install machines in any part of the country.
With the support of SARD-SC, the FMS team also proceeded to design, build, and equip two Community Based Cassava Centers for the production of cassava chips, cassava flour, and garri. These centers were handed over to their respective communities in Sangue and Kavumu.
To prove a point, FMS enlisted the newly trained and certified machine fabricators to build machines and equip these new centers in Sangue and Kavumu and to provide an opportunity to test the functionality of the new processing centers. The machines proved very effective in processing cassava into chips, flour in Sangue and Kavumu, and garri at Kalambo. The refurbished machines and new layout in Kalambo were also certified excellent.
"From this experience, the SARD-SC Kalambo team was able to identify what was needed to handle issues related to building effective value chains in general, and the cassava value chain in particular and called for help in time. FMS handled these requests well and cherishes this opportunity to be part of the refurbishing and capacity reinforcement exercises. We encourage other projects to take inspiration from Kalambo," said Waheed Quader, FMS Head.
He also added that FMS is available to replicate similar services to other interested agricultural commodity value chains in Nigeria and in other African countries.
As an example, last year, FMS, from a request received from the Business Incubation Platform, established a cassava processing center with 3-ton per day capacity for an IITA client based in Nassarawa State, Nigeria.
"FMS welcomes patronage from projects, individuals, and businesses for a reasonable fee," concluded Hilde Koper-Limbourg,DDG Corporate Services, IITA.