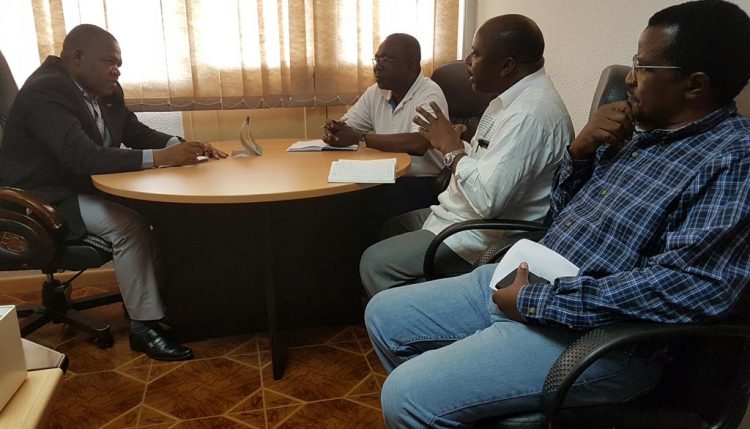 IITA-Mozambique hosts DG Sanginga
On 21 to 22 March, IITA-Mozambique hosted IITA Director General Nteranya Sanginga, for a two-day visit to oversee preparations for the upcoming Board of Trustees (BoT) meeting, the official inauguration of the new IITA-Mozambique facilities in Nampula, and the local celebration of IITA's 50th anniversary slated to be held there on 8-12 May. DG Sanginga also met with partners in government entities to discuss possible areas of further collaboration.
On 21 March, the DG, accompanied by David Chikoye, Regional Director for Southern Africa, and Steve Boahen, Country Representative to Mozambique, and other IITA-Mozambique staff and scientists, paid a courtesy call to the Provincial Directorate of Agriculture (DPA), Pedro Dzucula, in his office in Nampula.
During this visit, Dzucula briefed the IITA delegation on the existing collaboration between his department and the Institute. He specifically congratulated the efforts of IITA in providing legume seeds to farmers through projects particularly in the northern region of Mozambique. The DPA encouraged the DG to expand IITA's work in the country to include cassava, maize, and cashew, which have been earmarked by the Government as priority crops in the region.
In response, DG Sanginga emphasized the commitment of IITA to continue working with the agricultural department of Mozambique, highlighting the establishment of the Institute's new facilities in Nampula as proof of this commitment. He added that IITA continues to explore other avenues to engage in viable agricultural programs.
DG Sanginga also informed the DPA of the upcoming IITA BoT meeting in mid-May, the planned official inauguration of IITA-Mozambique's new research and administration facilities, and the local celebration of IITA's Golden Jubilee, both happening on 8 May. The DPA suggested that IITA invite the President of the Republic of Mozambique to grace the inauguration as he will be in Nampula during that period. The DG replied that they appreciated the suggestion, appointing Boahen to follow up on the matter with the help of Dzucula.
On 22 March, the DG, accompanied by Chikoye, Boahen, and Gersonia Catine, IITA-Mozambique station administrator, met with the Northeast Zonal Director of Mozambique's Institute of Agricultural Research (IIAM), Constantino Cumbe, at its research station in Nampula.
At the meeting, DG Sanginga briefed Cumbe on the events happening at IITA-Mozambique in May. Cumbe expressed his appreciation for the visit, indicating that his office will support these events particularly in coordinating with local government entities if needed. He lauded IITA's work in the country and the strong collaboration between IIAM and IITA. He also suggested some areas of further collaboration such as climate change mitigation through resilient production systems, research on traditional crops such as cocoyam and Bambara groundnut, expansion of cassava, yam, and tuber research, improvement of seed systems, and agroprocessing and crop value addition. The IITA delegation ended their visit with a tour of IIAM's modern seed processing plant.