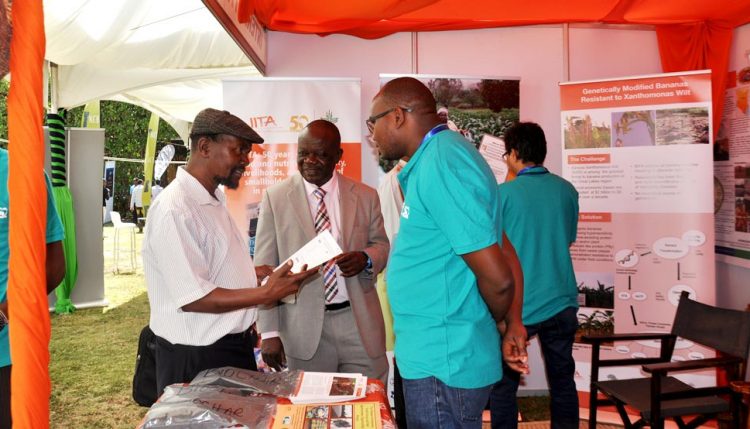 IITA technologies receive a lot of attention at the Nairobi Innovation Week
IITA was among the hundred plus organizations that showcased their work at the 3rd Nairobi Innovation Week, an annual signature event organized by the University of Nairobi and other key stakeholders to celebrate and recognize innovations that are relevant to Kenyan society.
IITA's participation at the exhibition which took place 5-10 March at the University was part of events to mark its 50th Anniversary. It was a collaboration between its Central and Eastern Africa hubs with support from Bernard Vanlauwe and Victor Manyong, the respective hub directors. IITA also received support from Tonny Omwansa, who recently joined IITA as Director for Research Support and who is also the brains behind the Nairobi Innovation Week.
Speaking at the end of the event Omwansa said he hoped IITA can participate at the event on an annual basis and in a big way to support efforts to increase the Institute's visibility.
The IITA exhibition booth received very many visitors from the university fraternity, media, other exhibitors, and the public. Several public universities were interested in developing strategic relationships with IITA to support research and capacity building efforts.
IITA also got very good feedback on the technologies displayed and many expressed appreciation for the work the Institute was carrying out.
In addition to general information on IITA and its research activities, innovations that IITA researchers have developed/are developing were exhibited at the event. These included research to address soil health and associated technologies including NoduMax—a rhizobium inoculant to improve soybean production and Biochar—a form of charcoal for enhancing soils to boost productivity.
IITA also showcased its research on tackling nematodes―microscopic "worms" that attach to roots of crops―and root health.
Technologies addressing postharvest losses and making food safe were also exhibited. These included IITA's efforts to reduce aflatoxin contamination using the biocontrol product, aflasafe. Representatives from the IITA Youth Agripreneurs from Kenya also demonstrated their products and those from the group in Tanzania.
The team at the booth comprised Catherine Njuguna (Communication); Wilfred Osao (Aflasafe), Geoffrey Kimuati (Biochar), Onesmus Mwaura (Nematodes), Stephen Njenga (Kenya Agripreneurs), and Susan Karonga (Logistics). Victor Manyong and Jay Tripathi from the East Africa Hub joined the team on the first day.