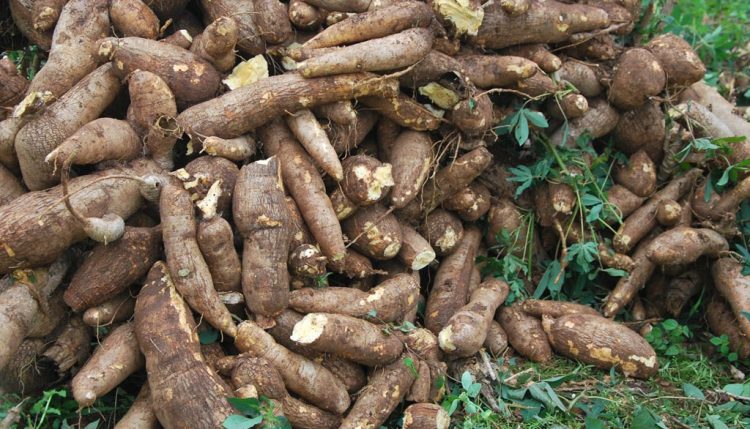 Three Liberian journals feature IITA's work on cassava
Three Liberian journals recently reported how a series of training using IITA's improved cassava varieties has empowered and is now helping farmers fight poverty and malnutrition in the country.
The journals—Rem Republic, Monday Daily, and Women Voices reported that two separate training benefited 122 farmers and 500 farmers, respectively, in four districts in Grand Bassa County and Kakata, Margibi County.
During the training, which were facilitated by Michael Edet, IITA's Cassava Extension Agronomist, the beneficiaries received free stem cuttings of 16 improved cassava varieties and also learned about the common pests and diseases of the crop. Edet also helped to assess and observe the cassava varieties on the fields of the local farmers in Kakata.
He urged Liberians to be more engaged in agriculture, saying that if the people could devote more time to agriculture, their livelihoods would improve tremendously.
"This training will add value to cassava production and improve livelihoods of farmers and processors in the country. We encourage farmers here to develop an interest in agriculture to improve your income, which will ultimately reduce the poverty rate in the country," Edet stressed.
Participants interacted and exchanged ideas on the techniques used in planting the different varieties of cassava they had received.
Lorpu Gizzi, a Liberian farmer, who spoke on behalf of the farmers, extolled the organizers of the training for the knowledge and experience shared and for the enormous benefits they have received. Gizzi noted that the training were coming at an appropriate time when farmers in the country were seeking help in recovering from the effects of the civil unrest that had previously affected the country.
"This is a welcome initiative; the knowledge and experience gained is of great benefit to us and will help us improve our livelihoods; it will surely bring relief to Liberia. What we have gathered from this training will help bring relief to a poverty-stricken, post-war nation like Liberia," he said.
The training were conducted through an African Development Bank (AfDB)-funded project at IITA—Smallholder Agricultural Productivity Enhancement and Commercialization (SAPEC), in conjunction with the Liberian Government.
SAPEC has the mandate to engage local farmers in Liberia to enhance agriculture and increase food security in the country.