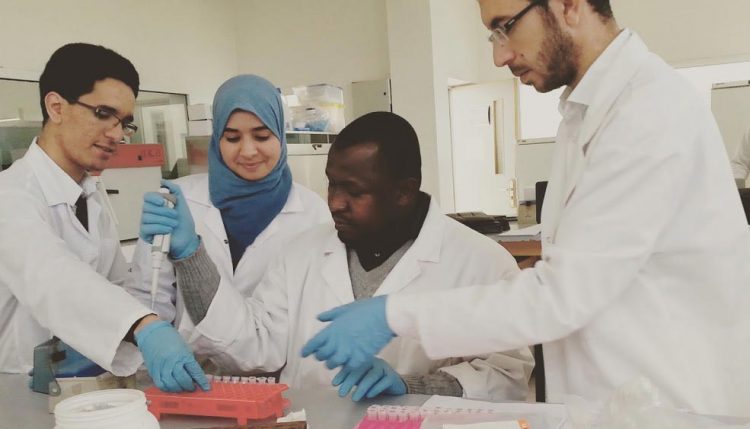 Two wheat scientists graduate with full scholarships from the SARD-SC Wheat project
In August and September 2016, two students, Mala Kachalla from Nigeria and Bruce Mutari from Zimbabwe, respectively graduated with a master's degree after successful studies funded by the SARD-SC wheat project. The AfDB-funded SARD-SC wheat component of ICARDA runs a scholarship program to build the capacity of African researchers in various segments of the wheat sector. The project has offered a full scholarship to nine wheat scientists from six African countries to pursue their PhD or master's studies on wheat in the fields of breeding, seed production, agronomy, and disease and pest management, among others. The scientists are undertaking their studies in various top level universities across Africa, backed by practical field experience and learning exchanges with other countries in the continent.
Kachalla studied at the University of Maiduguri in northern Nigeria and specialized in "Screening of drought tolerant wheat lines in West African lowland environment and molecular marker analysis, using markers linked to IRS translocation, dwarfing genes and leaf rust resistance." Through the support of the project, Kachalla attended a DNA molecular training in Rabat, Morocco.
"The major challenge that plagues wheat production in West Africa is abiotic stress, particularly heat and drought," explains Kachalla. "With the knowledge I have acquired in conventional and molecular breeding, I hope to support the wheat sector in my country to develop varieties that are tolerant to drought and heat stresses," he adds.
Mutari, on the other hand, specialized in "Diversity studies and marker-assisted improvement for rust resistance in wheat (Triticum aestivum L.) genotypes" from the University of Fort Hare (UFH), Alice, South Africa. Mutari is about to publish three papers, and one of them is on Detection of rust resistance in selected Zimbabwean and ICARDA bred-wheat germplasm using conventional and molecular techniques.
"Before my research, there was limited genotypic information on slow rusting leaf rust (Lr) and stem rust (Sr) resistance genes deployed in Zimbabwe," says Mutari. "The knowledge generated through my study will assist plant breeders in selecting parents for use in future hybridization programs and design of multi-resistant cross combination cultivars with improved rust resistance," he adds. This is important because in Zimbabwe, most of the old and present commercial wheat cultivars and promising breeding lines are susceptible to the current races of leaf and stem rust.
Demand for wheat in Africa is rising as a result of increasing population, urbanization, and changing tastes, while productivity remains low due to abiotic (mainly heat and drought) and biotic (disease, insects, pests, and weeds) stresses. Through these scholarships, the project builds the capacity of the next generation of wheat scientists and researchers who will help the continent address challenges in wheat production and support countries to raise productivity, curb imports, and improve food security and livelihoods. The scholarships are comprehensive and include a stipend, publication and research costs, tuition, travel, and insurance.