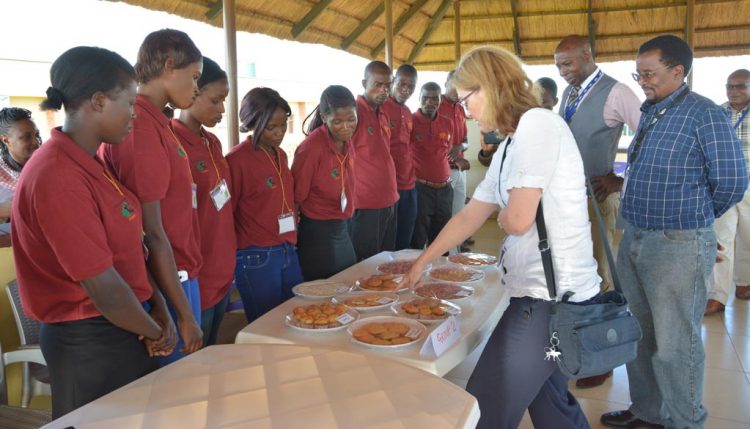 Zambia IITA Agripreneurs Program train 11 youth on cassava-based food production
The Zambia IITA Youth Agripreneurs (ZIYA) Program successfully conducted a training course on cassava value addition for 11 ZIYA members―all female―on 6–16 March at the IITA Southern Africa Research and Administration Hub (SARAH) campus in Kabangwe, Lusaka Province. The 11 women came from different youth groups from Kaoma District in Western Province, Monze District in Southern Province, and Serenje and Mkushi districts in Central Province partnering under the ZIYA umbrella.
The training course was conducted with support from the Support to Agricultural Research for Development of Strategic Crops in Africa (SARD-SC) project. Facilitators included Emmanuel Alamu, Food Scientist; Prisca Chileshe, Postharvest Utilization Research Assistant; Nhamo Nhamo, ZIYA Youth Coordinator; and Jeremiah Hantolo, Zambia SARD-SC Maize Coordinator, all based at IITA-SARAH.
The 10-day, hands-on course covered the various steps in preparing cassava-based food products―from root preparation (cleaning, peeling, chipping, and drying) to processing and cooking/baking. Specifically, the youth were taught how to make confectionary products
such as biscuits, chin-chin, fritters, titbits, and cupcakes.
At the end of the training, the trainees presented the different food products that they had produced to IITA-Zambia staff as well as to Hilde Koper-Limbourg, Deputy Director General for Corporate Services, who coincidentally was also in Zambia on a familiarization and monitoring trip to the southern Africa Hub.
"These are very impressive products that you have prepared," David Chikoye, IITA Southern Africa Regional Director, said during the presentation by the trainees. "I sincerely hope that you will apply what you've learned here―and what you will still learn in the future from ZIYA―in your respective groups when you go back," he added.
"These are really delicious," added Koper-Limbourg. "I see a really good business opportunity for these products, and a great business venture for the ZIYA youth. You should be proud of yourselves and what you have accomplished here."
Asked what they will do with the knowledge that they gained from this training, Caroline Liwena, ZIYA Youth Chair, who also participated in the course, related that they would also train other members of their respective youth groups. "Apart from echo training, we will also start some small businesses producing and selling these food products. And, of course, start making money," she proudly added.