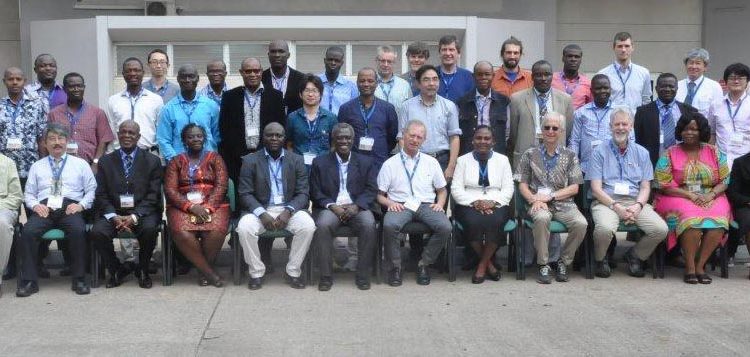 4
Breeders charged to develop yam varieties responsive to tomorrow's challenges
In early March, 50 international breeders gathered in Ibadan, Nigeria, for the AfricaYam project's third annual progress review and planning meeting, which looked at the progress of yam research in West Africa.
One of the conference participants, Jim Lorenzen, senior program officer at the Bill & Melinda Gates Foundation, discussed the benefits of creating diverse yam varieties and encouraged researchers to think about solutions to the complex challenges plaguing farmers and households in Africa.
"As the problems that affect African farmers and households in relation to yam change, breeding and research approaches must also change to reflect the needs of people. People are increasingly worried about climate change, about soil and nutrient depletion, and about the amount of money they can generate on their investments. For our efforts as a project to achieve
the desired impact, our approaches must anticipate tomorrow's needs and provide answers to these challenges," Lorenzen said.
Yam is undoubtedly a key crop for West Africa in terms of value of production and as a source of food for over 300 million households, yet breeding is very challenging and sensitive. As a result, the crop is yet to achieve its full potential in the continent.
The project was set up in 2015 to use the latest technologies in plant breeding to develop high-yielding varieties of white yam (Dioscorea rotundata) and water yam (D. alata) that will show great promise in resisting infestation by nematodes, viruses, and anthracnose, known to greatly limit productivity in West Africa's most preferred staple crop. The project is also mandated to enhance active yam breeding programs in Nigeria, Cote d'Ivoire, Ghana, and Benin—the countries in West Africa producing over 95% of Africa's yam. It will employ faster and more precise genomic tools to improve the efficiency of yam breeding programs as well as improve yam genotypes adapted to production systems and suited to market preferences.
To reach its goals at scale, AfricaYam is engaging the participation of experts from the Japan International Research Center for Agricultural Sciences (JIRCAS), the National Root Crop Research Institute (NRCRI), Ebonyi  State University (EBSU),  the Council for Scientific and Industrial Research (CSIR), the Savanna Agricultural Research Institute, le Centre National de Recherche Agronomique (CNRA), and l'Université d'Abomey-Calavi (UAC), Dassa Center, Benin, Centre de Coopération Internationale en Recherche Agronomique pour le Développement (CIRAD), France; the Iwate Biotechnology Research Center (IBRC), Japan; the James Hutton Institute (JHI), UK; and the Boyce Thompson Institute for Plant Research (BTI), Cornell University, USA.
"Everywhere we went, we always got the question—what is the impact of your work? IITA has found new ways to answer this question by engaging more partners in the national agricultural research systems and the private sector to ensure a wider reach for the technologies generated from IITA's research," said Robert Asiedu, IITA Director, Research for Development, West Africa, at the meeting's opening program.
Debunking the peculiar belief that yam was unresponsive to research, Asiedu noted that already, IITA has released 17 successful improved varieties through various interventions. He said that yam research could prosper more if the same kind of attention as has been lavished on cassava for instance is devoted to yam.
"Yam if given the right kind of attention can respond in the same way as other crops. Yam can be as successful as many other crops in Africa," he said.
What's next? AfricaYam has made great progress in empowering its partners to breed for better yam. It has digitized the collection of data on yam and feeds such into a repository known as Yambase from where breeders anywhere in the world can get information they need to advance the crop.
Patrick Adebola, Project Leader of AfricaYam, disclosed that the project is now exploring options to convince governments in other countries to learn from Ghana that has included yam in its national agricultural development strategy. Ghana now captures 95% of the yam export market with significant exports to US, UK, Europe, and Canada.
Going forward, the project plans to establish functional yam breeding programs to support partners and in the long run, feed into another complementary project—Yam Improvement for Income and Food Security in West Africa (YIIFSWA), also funded by the Bill & Melinda Gates Foundation, to develop healthy yam seeds for West African farmers through an effective seed production and delivery system.