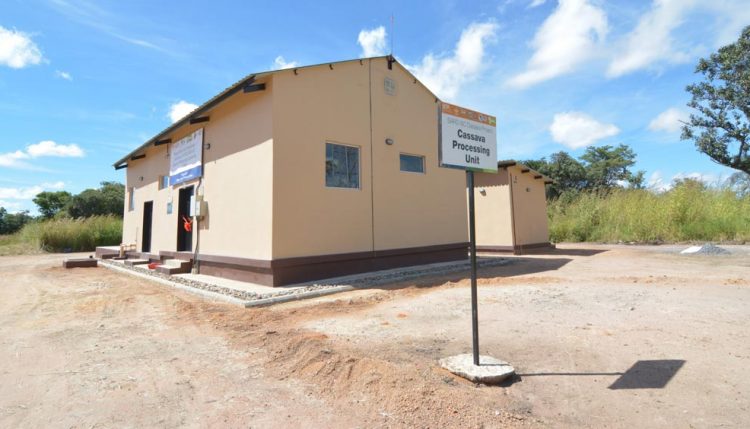 IITA looks to spur cassava sector growth in Zambia as it hands over processing center to national partner
IITA, through its "Support to Agricultural Research for Development of Strategic Crops in Africa" (SARD-SC) project funded by the African Development Bank (AfDB), turned over a modern cassava processing center to its national partner, the Zambia Agriculture Research Institute (ZARI), on 12 April in Mansa, Luapula Province, some 800 km north of the capital Lusaka.
The processing center is part of the project's commitment to support ZARI in developing the country's cassava industry.
The cassava processing center is equipped with a mechanized cassava grater, presser, firewood-fuelled fryer, sieving machine, and high-capacity milling machine. It also has an office, workers' washroom, loading and drying dock, and cassava washing bay. The center can process 5 tons of fresh roots daily into chips and high-quality cassava flour (HQCF), among other products. The cost of building and equipping the center was about 1.2 million Zambian Kwacha (US$120,000).
The handover and commissioning event was attended by representatives of IITA, ZARI, AfDB, and the provincial government, as well as by cassava farmers, farmers' associations, and the media. Rody Chakaba, Mansa District Commissioner, gave the keynote address.
Pheneas Ntawuruhunga, cassava breeder based at IITA's southern Africa Hub in Lusaka, Zambia, and representing the Institute, said that the construction and handover of the Mansa cassava processing center "is one of the key outputs of the SARD-SC project that will empower ZARI to conduct cassava-based capacity building and livelihood activities to benefit smallholder farmers, especially the women and the youth, by making available machinery and equipment for training on and producing value-added products."
"Later you will see and sample some of the food products that could be produced from this center, which have been prepared by local women and members of the Zambia IITA Youth Agripreneurs," he explained.
Lewis Bangwe, AfDB representative, added that the establishment of the processing center "is aimed at helping address some of the gaps in agriculture in Zambia: the lack of crop processing infrastructure, weak capacity in practical areas of agricultural research, and non-interest/non-participation of youth in agricultural activities.
The Bank is proud to be associated with IITA and ZARI, which are partnering to implement SARD-SC that is helping to develop the cassava sector in the country. This center is a concrete manifestation of the Bank's commitment to help improve the plight of Zambian smallholder farmers," Bangwe added.
"I would also like to emphasize that this is part of our efforts to make agriculture attractive to our Zambian youth by demonstrating that money could indeed be made from cassava."
Monde Zulu, Deputy Director of ZARI, indicated that "ZARI will use this facility to conduct training among farmers and youth on processing cassava to produce high-value products such as HQCF, which in turn can be used to make food products such as biscuits, titbits, and cakes. These could then be additional sources of income for farmers, and more importantly, stimulate the demand for cassava and spur the growth of the sector in Mansa and northern Zambia."
District Commissioner Chakaba, in his address, said "I am honored to give the keynote address at this important event and to officially inaugurate this cassava processing center. As ZARI and IITA find more ways for our farmers to produce more cassava, I am happy to note that both institutions have also not lost sight of the importance of adding value to the crop through processing."
"I also thank the AfDB for supporting this initiative. Farmers cannot continue to be just raw material suppliers and expect their plight to improve. For farmers to move forward—and for our youth to take over agriculture from us old people—we need to show that better income could be realized by processing cassava into high-value products. This is what this facility is for," he added.
"This facility symbolizes the livelihoods potential of cassava and the people that depend on it…I officially declare this center open," he concluded.