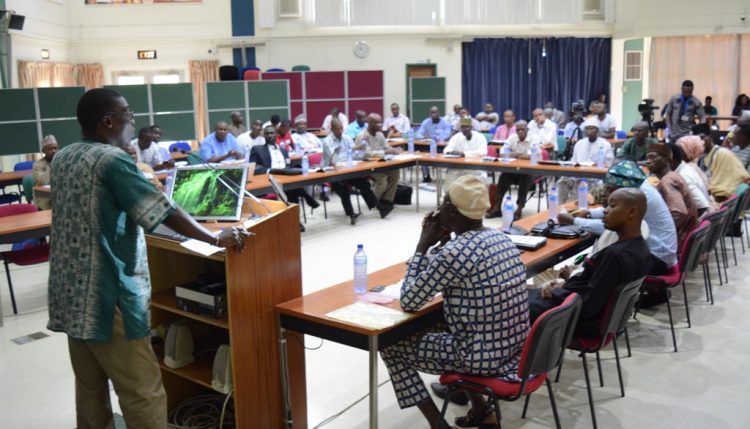 AgResults holds 4th annual implementer induction and training at IITA
Aflatoxin contamination is a menace affecting over 4.5 billion people in developing countries. This is why the AgResults aflasafe™ pilot project is working through its private-sector experts known as implementers to facilitate access for farmers to Aflasafe—Africa's first biocontrol product for aflatoxins. Implementers facilitate the adoption of aflasafe™ and work with smallholder farmers to increase the productivity and profitability of their aflasafe-treated maize.
For the last four years, the AgResults project has successfully demonstrated that private sector involvement in innovation delivery can greatly influence the ways farmers are reached with available technologies, thereby making it easier for resource-poor farmers to benefit from and have access to the technology and knowledge needed for their production.
On 19-21 April, implementers gathered for the fourth annual induction and training program of the project in Ibadan. The exercise brought together 24 old and 14 new implementers and many other agricultural enterprises producing maize or actively involved in the value chain. The forum created an atmosphere for participants to gain skills required in modern agricultural practices through agribusiness and knowledge on the best approach in preventing aflatoxin to enhance food security and safety.
"Farmers want to harvest crops and ensure good health for themselves and their families; they want to earn income to help their families. This training will greatly empower implementers and farmers to improve their economic returns and production," said Kenton Dashiell, Deputy Director General, Partnerships for Delivery, in his opening remarks.
Joseph Asenge, Executive Chairman, Association of aflatoxin free agro products producers of Nigeria (AAFPPON), an old implementer, said, "The training is really impactful and educative. My yields have increased greatly. There is high demand for my maize seeds. I have a 20% increase in my income. My business has expanded. Being an implementer has given me a better livelihood. Now I have acquired two large farms because of this project."
Also speaking at the opening ceremony, the Special Adviser to the Oyo state Government on Agriculture, Adekunle Olusegun, stated, "We are all under threat because we consume maize with microbial constituents. We need aflasafe-treated maize to minimize our exposure to Aspergillus attack."
Another participant, Abiodun Okunola, from the Central Bank of Nigeria (CBN), said he was taking home vital points that will help the CBN provide advisory services to farmers, State Government, and agro-allied companies.
AgResults is a multi-donor, multilateral initiative providing incentivizes and rewarding high-impact agricultural innovation that promotes global food security, health, and nutrition through the design and implementation of pull mechanism pilots. It is funded by the governments of Australia, Canada, the United Kingdom, and the United States, in partnership with the Bill & Melinda Gates Foundation, through a Financial Intermediary Fund operated by the World Bank.