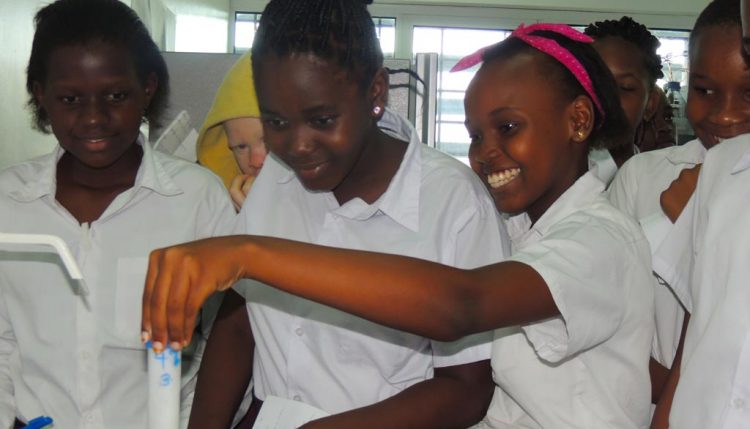 IITA marks Fascination of Plants Day with tomorrow's scientists
IITA joined other scientific institutions, universities, museums, schools, farmers, and companies all around the world to celebrate the Fascination of Plants Day on 18 May. The event was initiated by the European Plant Science Organization (EPSO) four years ago to create awareness on the importance of plants and plant sciences.
To mark the event, IITA brought together nearly 60 children from two neighboring schools at its Eastern Africa hub office in Dar es Salaam, Tanzania, to learn about ongoing research on plants and their importance in food security in the country.
The primary school pupils were welcomed by the Hub Director Victor Manyong who highlighted the activities of the Institute in supporting farmers in the country by addressing challenges such as plant pests and diseases, nutrition, and investing in soils.
He stressed the importance of having future scientists to continue addressing the many problems facing the agriculture sector and farmers in the future as climate change takes effect and the population increases for a hunger free-Africa.
"The population is increasing; however, the land remains the same or even less, yet we have more mouths to feed. The climate is changing too and we need to conserve our forests. Our scientists are working hard to find solutions to these but we also need future scientists. We are expecting some of you to be our future IITA scientists," said Manyong to the students drawn from East Africa International School and Ushindi Primary School.
"This is the third year we have marked this event and brought young people to the hub to spend time with our scientists in the laboratories. This we believe is very important to expose them to the world of science and to motivate them to study sciences," he added.
"We want to thank IITA for this opportunity again. The children have learned a lot. And they have seen in real life the application of the subjects they are studying in school," said Joseph Butale, a science teacher at Shindig Primary School.
The students also watched a short video on the importance of plants followed by a short tour the hub's four laboratories—Pathology, Molecular, Food Science, and Soil. They were met and briefed by the researchers about various research being conducted at IITA.
They also cut the IITA 50th anniversary cake as a part of the celebrations.