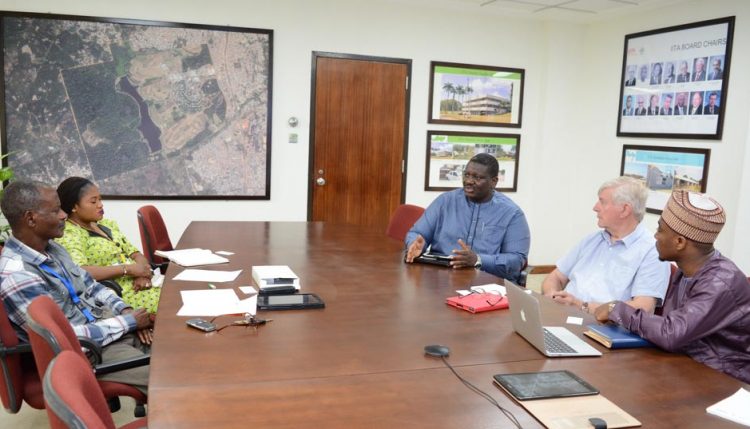 IITA partners with private sector to boost soy oil production
IITA has pledged to provide its best soybean varieties to Al-Abass Holdings—a private sector organization aiming to establish an edible oil refinery in Nigeria.
Nigeria consumes 70-80% of the palm oil it produces. Currently, 80% of oil palm production comes from scattered smallholdings spread over an estimated 1.6 million hectares of land. In contrast, plantations occupy only about 300,000 hectares, most which came up over the last decade with private sector investment.
According to Abdoulrasaq Abass, Chief Executive Officer, Al-Abass Holdings, the projected edible oil refinery will create wealth for farmers and employment opportunities for Nigerians.
"We want to start an edible oil refinery in Nigeria. Our goal is to produce edible oil in the country. In line with IITA's vision, we want to create more employment opportunities for Nigerians and work closely with farmers, supporting them to produce to world standards," Abass said.
Abass was accompanied by Lukman Idris, Risk Manager, and Andre Pouzet, Agronomist at Avril Group—a French agroindustrial group that specializes in oilseed for human and animal nutrition, renewable chemistry, and renewable energy.
Al-Abass Holdings works in partnership with Avril Group which primarily deals with the economic development of oilseed products such as rapeseed and sunflower.
"I am here to understand the structure of soybean in Nigeria. We want to partner with IITA to get the best quality soybean. Avril enables a difference between industrial and financial activities; we will ensure a fair distribution of added value for the entire chain, from producers to consumers," Pouzet pledged.
The visitors were welcomed by David Ojo, SARD-SC Soybean Scientist while Zoumana Bamba, Head, Capacity Development Office, on behalf of IITA, formally set this collaboration in motion on 11 May, when both parties signed a memorandum of understanding (MoU) in Ibadan.