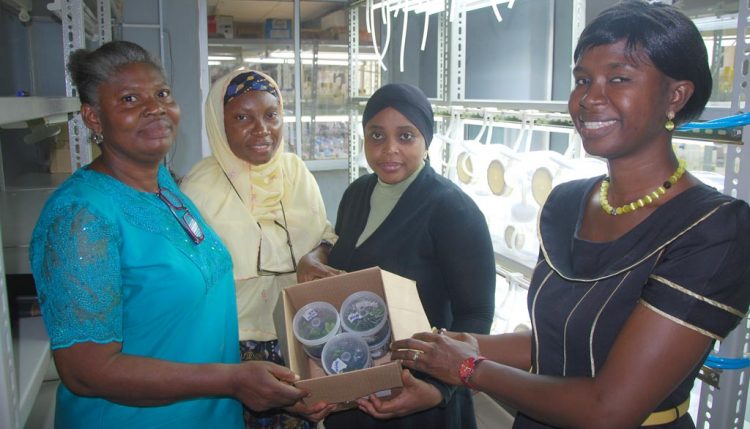 YIIFSWA enhances NACGRAB capacity for efficient pre-basic seed yam multiplication using Temporary Immersion Bioreactors
Access to quality seed of improved varieties is the basis of sustainable crop production systems. This can only be achieved if there is a viable supply system, incorporating efficient seed multiplication and distribution within an organized formal seed system.
In the case of yam, a formal seed system is gradually being developed through the Yam Improvement for Income and Food Security in West Africa, phase two project (YIIFSWA-II). Also, capacities, including knowledge and infrastructure are being put in place at the individual and institutional level. The IITA-led YIIFSWA-II project is equipping institutional partners with infrastructure, technical know-how, and clean planting materials from the project's promoted varieties that will enable key research institutions like the National Center for Genetic Resource and Biotechnology (NACGRAB) to participate in the commercial multiplication and dissemination of yam planting materials.
In the first phase of YIIFSWA which ended in 2016, IITA used the SETIS type Temporary Immersion Bioreactor (TIB) technology for pre-basic seed yam production. The TIB technology will be outscaled to national partners in Nigeria and Ghana under YIIFSWA II. In April 2017, YIIFSWA, assisted by IITA's Facilities Management Services (FMS) installed 24 units of the SETIS Bioreactors at NACGRAB for mass propagation of high-quality, pre-basic yam plantlets of improved varieties promoted by YIIFSWA-II. These would be made available commercially to other institutions for basic seed yam production.
According to YIIFSWA's Principal Investigator on TIB technology, Morufat Balogun, each unit of NACGRAB's SETIS bioreactor can hold at least 50 plantlets with a total of 1200 plantlets at a time for the 24 units. This is more than a quarter of IITA's 128 units installed in 2013. A 10-KVA inverter system and programmable logic control were also installed by YIIFSWA alongside the bioreactors for sustainable utilization.
According to the Head of Tissue Culture at NACGRAB, Afolayan Adedotun, prior to this installation, NACGRAB was using recycled mayonnaise containers (Bama bottles) which held about 15 plantlets per unit. In addition, the Bama bottle system was not cost effective because they often had to change containers as the bottle caps became loose, allowing for contaminants to enter.
The SETIS Bioreactor comes fitted with silicone gaskets for the screw caps allowing for perfect sealing of the bioreactor in addition to programmable logic control amenable to both research and production. Each unit of the new SETIS bioreactor can hold 6 times more plantlets per production cycle.
On 10 May, Balogun visited the institute to inspect what had been installed and also handed over 40 plantlets of the three improved varieties (TDr 89/02665, TDr 95/19177, TDa 98/01176) YIIFSWA-II is promoting. The Institute already has in its stock 900 plantlets of both land races and improved varieties introduced during YIIFSWA I. NACGRAB is expected to provide the National Root Crop Research Institute (NRCRI) with 1960 disease-free plantlets this year for planting in NRCRI's aeroponics facilities, also installed during YIIFSWA I.