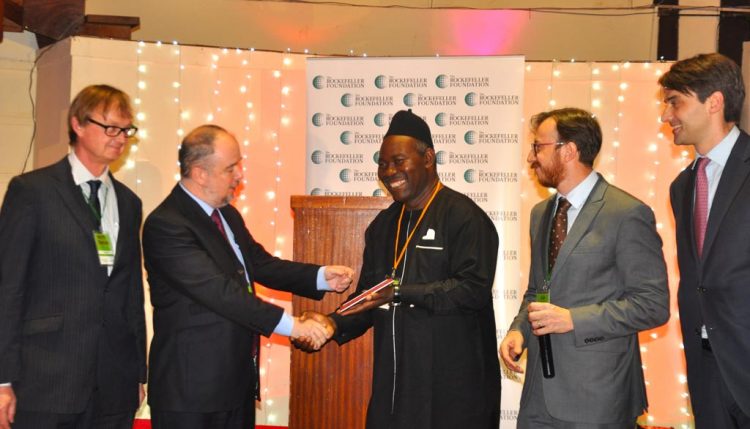 NRI cassava bag wins US$500,000 Cassava Innovation Challenge award
The Natural Resources Institute (NRI), based at the University of Greenwich, United Kingdom, in partnership with the Federal University of Agriculture, Abeokuta (FUNAAB), Nigeria, was declared the winner of the Cassava Innovation Challenge launched last year by Rockefeller, IITA, and Dalberg.
The team received a grant of up to US$500,000, along with technical assistance, to test and market the winning technology―the NRI Cassava bag that can keep cassava fresh for at least eight days postharvest.
The announcement was made by Rafael Flor from the Rockefeller Foundation flanked by Richardson Okechukwu from IITA and Marcus Watson from Dalberg at a cocktail at the All Africa Postharvest Congress & Exhibition in Nairobi, Kenya.
"We received more than 600 applications from 32 countries with ideas on how to solve this problem of short shelf-life  for cassava. We had a panel of 21 judges from around the world, including Nigerian cassava experts, who recommended a shortlist based on the Rockefeller Foundation's criteria for innovation," said Flor while announcing the winner.
IITA's Okechukwu noted that reducing cassava spoilage held real potential to increase the incomes of smallholder farmers and increase the efficiency of the entire cassava industry in Nigeria and other major cassava-producing countries in Africa.
"As part of the judging team we selected the winning innovation due to its potential to significantly reduce spoilage in the cassava value chain. It can successfully and affordably be adopted and scaled out, both within Nigeria and other developing countries, and has potential to be commercialized for sustainability, once the Challenge funds have been depleted," said Okechukwu.
The Cassava Innovation Challenge sought to identify and support novel solutions for increasing cassava shelf life in Nigeria and the world. Cassava has a very short shelf life, and if unprocessed it will perish within 24-72 hours after harvesting or less if it is damaged during harvesting or transport.
Approximately 40% of cassava is lost due to spoilage, limiting farmer incomes and rural economic development.