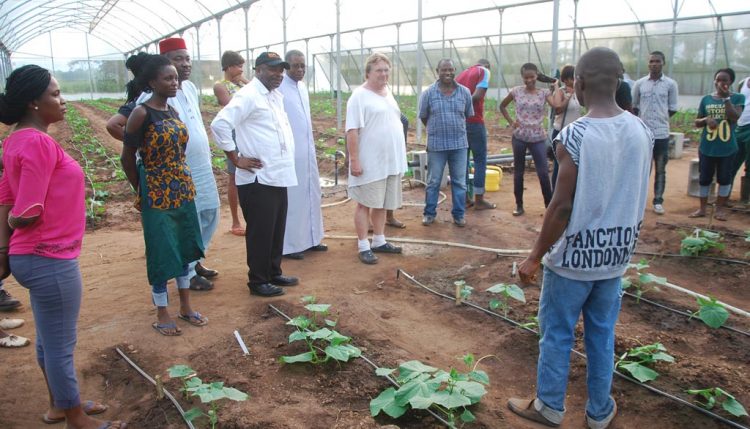 IITA establishes two incubation centers for IYA initiative in Imo state, Nigeria
Youth-led agricultural development initiatives can play a key role in reaching out to young people in Nigeria, but conditions have to be suitable for young people to realize their human potential.
To drive this, Nteranya Sanginga, IITA Director General, went on a 2-day site visit on 8—9 May to inspect the progress made on the development of two new agribusiness incubation centers spearheaded by the IITA Youth Agripreneurs (IYA) in Imo state.
Seven members of the IYA core group were deployed from Ibadan and Abuja to Imo state in January to begin establishing the incubation centers, while another seven ex-IITA National Youth Service Corps (NYSC) members were deployed last month to join the pioneer representatives there.
Development activities began with an extensive renovation by IITA's Facilities Maintenance Service (FMS) of a greenhouse at the Anambra-Imo River Basin and Rural Development Authority (AIRBRDA), Agbala, for diversified crop farming and an animal husbandry facility for mixed or integrated farming at the School of Agriculture, Imo Polytechnic, Umuagwo, Imo state. Both facilities were abandoned due to lack of operational funds and left in a state of total disrepair.
The youths' progressive development is already creating a buzz on campuses and surrounding communities. The first batch of 1200 birds had been sold and profits were plowed back into the program for further development. Currently the youth have planted hybrids of cucumber, squash, cabbage, tomatoes, pepper, and sweet corn at the AIRBRDA greenhouse.
At the integrated farming center, which is a zero waste system, the fish ponds have been populated with 10,000 juveniles and the poultry coops now contain 350 broilers and 1350 layers that can produce 200 crates of egg daily. All waste produced in the system will be used to fertilize the crop farms established by IYA in Imo state.
According to Richardson Okechukwu, who facilitated the site visit of the DG, the incubation center at Imo Polytechnic will also have a cassava and soybean section to be managed by the youth from IITA Onne station, Rivers State. With the support of the cassava transformation unit, the youth will establish about 40 hectares of cassava farmland which will be channeled to the Polytechnic's cassava processing factory.
"The market for these roots is here. IITA will also seize the opportunity to promote some new varieties…The soybean and maize grown in this facility will go into feed processing. So in a very short time the youth will not buy feed for their poultry but produce their own feed from the feed mill here. Basically the system here has been developed with sustainability in mind," Okechukwu said.
Through the agribusiness incubation program led by IITA and the African Development Bank (AfDB) educated unemployed graduates will be trained and mentored for 18 months under the IYA. The purpose of the program is to change their perspectives about agriculture, develop and sharpen leadership, managerial, and entrepreneurial skills in agribusiness, and expose young people to the business opportunities along the value chains. After completion of the program, they will be expected to develop bankable business plans along the value chains of any agricultural commodity. The business plans will enable them access loans from financial institutions and organizations for start-up of their independent agribusiness enterprise.
The first set of incubatees is the Green Wealth Agripreneurs who have completed their training in Ibadan in 2016. They have developed their business plans and are set to kick off their businesses any time soon.
During an interview, DG Sanginga stated, "Youth in agriculture is the future of Africa, IITA initiated this model which is now being adopted by states in Nigeria. What we have seen here shows the impact of changing mindsets and the provision of a platform to express those changes.
IYA has brought about a paradigm shift in the way young people view agriculture. And that's unprecedented in Africa because the motivation about agriculture has gained so much acceptance by young people…If the youth can make it happen for Nigeria food-wise, then the country will be saved."
The Government of Imo state, IITA, IYA, and AfDB will be launching the facilities on 20 July 2017.