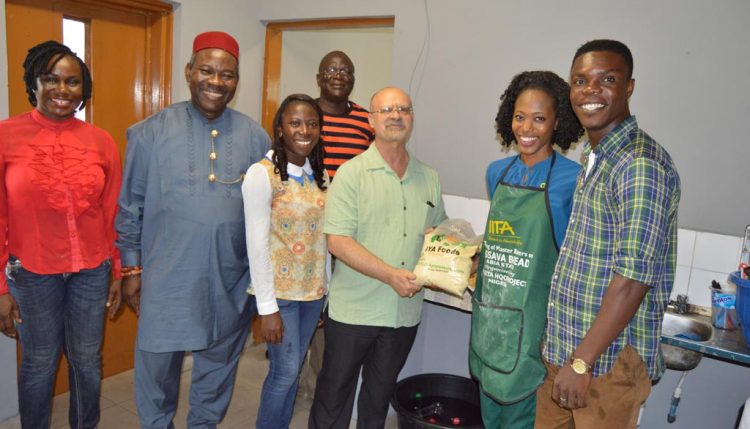 IITA Onne will drive strong research and delivery projects, says IITA DDG
During a visit to inspect the facilities and progress at the recently reopened IITA station at Onne, Rivers State on 25 May, Kenton Dashiell, IITA's Deputy Director General, Partnerships for Delivery pledged to preserve the legacies of the late Dirk Vuylsteke, Paul R. Speijer, and John B. Hartman—IITA renowned scientists who dedicated their lives to revolutionizing banana and plantain breeding in the region.
He said the Institute will achieve this by "establishing strong and competitive research and delivery programs in plantain, cassava, yam, rice, maize, and an unbelievable, fantastic program on the youth who will make something out of nothing."
Commending Richardson Okechukwu, Head, IITA Onne and his team for undertaking the task of rebuilding Onne, Dashiell said "IITA Onne has made unbelievably great progress compared to 5 years ago when it was a complete disaster. People in this room are the foundation of the team that rebuilt Onne. It makes me feel so proud, that at least, I get to be a little part of that team."
The DDG further recognized the visionary leadership of Nteranya Sanginga, IITA Director General whose prompt intervention reopened the Onne Station.
Okechukwu led the DDG on a tour of the station showing him the various renovations and facilities and also highlighting the challenges and prospects of the station. Dashiell assured the Onne team that he will do everything possible to make the station the shining star of IITA in the South-South zone of Nigeria.