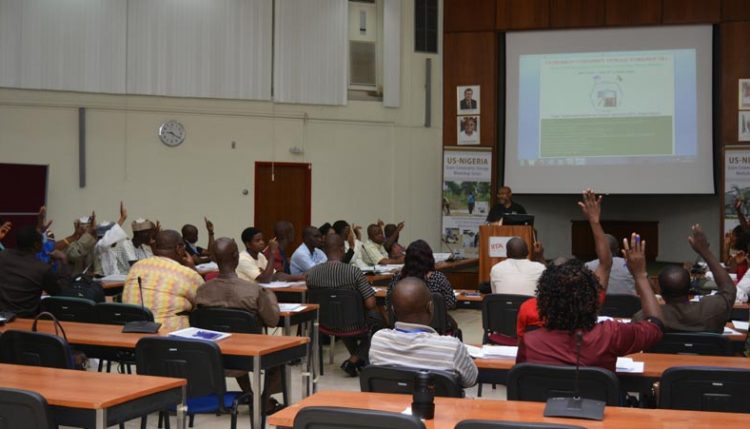 IITA hosts US-Nigeria commodity management workshop
On 30 May-1 June, IITA Ibadan hosted participants from Africa and the US who attended the seventh joint commodity management workshop of the United States and Nigeria.
The meeting provided an avenue for attendees to chart the course towards improved practices on stored grain in on-farm and warehouse structures and also learn and address topical challenging issues faced by farmers, aggregators, and merchants in field and storage warehouses.
Klein Ileleji, an associate professor and extension engineer in Agricultural and Biological Engineering, Purdue University
Michael Abberton, Head, IITA Genetic Resources Center and Deputy Director for Western Africa, welcomed the participants to IITA. Abberton recognized the efforts of organizations such as the United States Department of Agriculture-Foreign Agricultural Service (USDA-FAS), U.S. Land-Grant Universities and USAID, as well as other collaborating partners from Nigeria, in trying to forestall postharvest losses in Nigeria.
According to Harold Tarver, Program Manager, USDA-FAS, this meeting builds upon lessons from previous postharvest training which had been conducted every year since 2012. This year, the focus is on developing sustainable approaches to localize the training, involve other universities, and deploy new postharvest technologies nationwide.
Klein Ileleji, an associate professor and extension engineer in Agricultural and Biological Engineering, Purdue University, USA gave a presentation on the vision for the Stored Commodity Consortium of Nigeria (SCCON) to improve grain trade. He said the consortium was working to address problems encountered by stakeholders.
"SCCON is a proposed multi–state effort that builds on the solid foundation of seven years of technical assistance in stored commodity protection, management, training and research. It is implemented by the US Department of Agriculture (USDA) agriculture capacity strengthening program in Nigeria. SCCON intends to address identified problems encountered by stakeholders to impact productivity along the grain value chain and provide services that facilitate grain trade," Ileleji said.
Invited lecturers from universities in Nigeria and the USA also discussed several interesting issues bordering on storage management, integrated pest management for stored product insects, temperature and moisture measurement of bagged grain in warehouses, pesticide resistance and effective fumigation of stored grain, workers' safety and health concerns in grain storage warehouses, and grain warehouse design and operations management for bagged commodities.