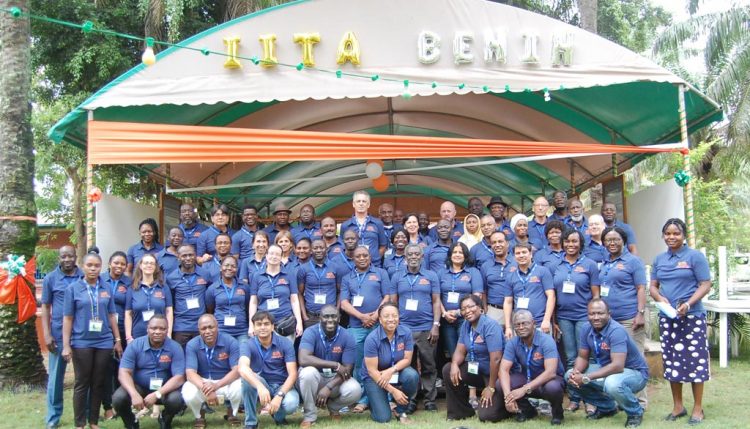 IITA West Africa holds second retreat
IITA West Africa scientists, specialists, and support staff came together in Cotonou, Republic of Benin in April, for their second retreat. The theme of the event was "Generating a Buzz about Excellent Science." It was attended by 60 participants based in IITA West Africa.
The meeting allowed colleagues to share ideas and brainstorm on the way forward for the hub to attain the Institute's mission of "transforming African agriculture."
Robert Asiedu, R4D Director for West Africa, set the tone for the retreat in his welcome address. He recognized colleagues that will be leaving the Institute upon attaining mandatory retirement age as well as presented the Futures Leader Award to Julius Adewopo for his outstanding contribution to agricultural research in Africa.
Asiedu then gave a presentation on "Scientific solutions to grand challenges in West Africa," weaving a thread from decisions reached in the 2014 West Africa Staff Retreat to the current challenges faced by the region using the UN Sustainable Development Goals (SDGs) as a point of reference. He also gave a snapshot of IITA West Africa in terms of international staff strength, stations, science domains, and project teams. Asiedu enjoined all to look critically at the subregion and IITA's work to proffer scientific solutions for the grand challenges facing agriculture now and into the future.
On the first day, participants broke out in groups to brainstorm on the many grand challenges that they perceived in the region; the plenary session reduced the numerous challenges to four major ones. The participants then broke out in groups to deliberate on an integrated strategy to address the grand challenges. The achievements of the first day can be summarized as: "A very good discussion around science and identification of four grand goals all of which link to IITA goals and the SDGs. The discussions focused completely on aligning research to higher goals without nuance of crops, disciplines, themes, or CGIAR Research Programs".
The next day, a presentation by Alfred Dixon titled "Technologies for outscaling in West Africa" generated an animated discussion  on mechanisms for identifying IITA technologies for outscaling. A key point was the urgent need for clarity on integration between what appears to be two separate wings in the Institute as well as the need for an internal process that moves the research products from R4D to Partnership for Delivery (P4D).
The West Africa team also discussed on how to improve efficiency at work and also visited the Cotonou facilities, the Bioversity Center of IITA, including the famed collection of insects.
The third day was dedicated to visiting the IITA Forest at Drabo, which was donated to the Institute by Peter Neuenschwander, IITA Scientist Emeritus. The visit provided the opportunity for participants to appreciate the work Peter has been doing in the area of biodiversity and protection of indigenous plant species as well as see the red breasted monkeys.