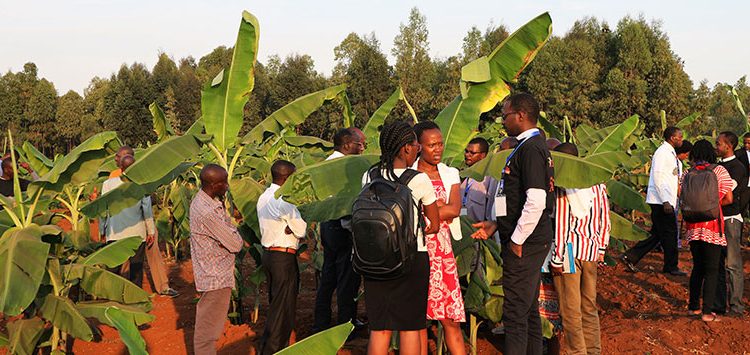 Celebrating IITA50 in Rwanda: How collaboration between CGIAR and scaling partners can make science work for farmers
IITA Rwanda took the International Scientific Conference organized by University of Rwanda on 14-16 June as an opportunity to showcase its research for development in the country and to mark IITA's 50th anniversary. Conference participants from all over the world got to see and hear about IITA's work.
Emmanuel Njukwe, IITA country representative, Rwanda, presented on "Variation of banana yields in banana–bean production systems in Rwanda", and chaired the session on Sustainable Crop Production and Soil Fertility Management. Another oral presentation on "Nutrient use efficiency in maize response to fertilizers in smallholder farms of Rwanda" was delivered by Leon Nabuhungu from the IITA Bukavu station. In collaboration with different partners such as the Rwanda Agricultural Board (RAB), a poster with results of the integrated systems research in North-West Rwanda was presented.
IITA took a prominent place in the conference exhibition, showing materials from projects such as N2Africa, CIALCA, and RTB in collaboration with partners.
Private sector partner Africa Food Supply Ltd. shared their experience with the cost-effective banana macropropagation technology that was developed by IITA and Bioversity International under CIALCA. The live banana materials in the exhibition booth, including a full demonstration of a propagation unit, attracted attention from conference participants.
On 15 June, IITA hosted a field visit to the Kamonyi Agricultural Resource and Training Centre in the Southern region. As a first stop the banana macropropagation and nurseries were visited. Visitors were welcomed by Udahemuka Aimable, mayor of Kamonyi District. The mayor said the district now produces clean banana seeds, thanks to the support of IITA. With the opening of the resource and training center up to 300,000 banana suckers can be produced each year.
A second stop was made at the banana plantation in Kamonyi. Here visitors saw the result of the macropropagation: healthy banana plants of different varieties, including plantain. Marc Schut, IITA social scientist, spoke on IITA's presence in Africa, some of the activities and achievements in Rwanda, and the celebration of IITA's golden jubilee in 2017. Marc emphasized the importance
of close collaboration between research and public and private sector scaling partners, so that science-based innovations—such as the production of clean planting materials through macropropagation—can make a difference for farmers. He also mentioned that IITA Rwanda station is looking ahead, developing plans for innovative research in the region in areas such as nutrition and ICT for agriculture.
Njukwe also highlighted the strong relationships in Kamonyi with partners such as Africa Foods Ltd. and Union des Jeunes pour le Développement Rurale (UJDR). IITA has been working on improving banana production in this area since 2012. Emphasis has been on tackling key challenges in the banana system, such as diseases, availability of planting material, and access to varieties.
Asked about the role of women by one of the visitors, Njukwe noted that both male and female farmers are being targeted with interventions. And with the presence of the resource and training center today the site offers opportunities for youth too.
For IITA Rwanda this was an important and successful event that provided a platform for sharing experiences, outputs, and impact in the region to an interested and enthusiastic audience. IITA Rwanda showcased the Institute's many interesting projects and certainly made IITA's presence felt, and emphasized that "IITA is ready for another 50 years of exciting research and development work together with partners."