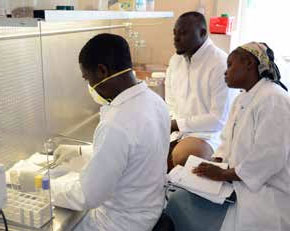 NACGRAB scientists trained on operating bioreactor for high ratio propagation of yam plantlets
With the installation of a new SETIS bioreactor facility at the National Center for Genetic Resource and Biotechnology (NACGRAB), two senior research officers were trained on using the high ratio propagation (HRP) technology by the Yam Improvement for Income and Food Security in West Africa Phase Two (YIIFSWA-II) bioreactor team at IITA, Ibadan. YIIFSWA-II Project Leader Norbert Maroya welcomed the participants and explained that the 3-day training program on the HRP technology for quality yam plantlets multiplication is important because it will help advance yam production in Nigeria.
The training was based on three sequential procedures beginning with the development of pathogen-free in vitro cultures, followed by the multiplication of clean stocks in vitro using the SETIS Temporary Immersion Bioreactor (TIB), and lastly the hardening of TIB plantlets for potting in soil or planting in aeroponics for pre-basic and basic seed production, respectively. NACGRAB is well versed in propagating and commercially distributing pineapple plantlets using the "bama bottle" type of TIB for multiplication, but yam is a new crop for them and it uses a new propagation system.
According to Morufat Balogun, YIIFSWA's principal scientist on TIB technology, "as the focal point for HRP of pre-basic seed yam in Nigeria, the national scientists needed the training on using the SETIS bioreactor; implementing quality standards approved by the regulatory bodies of Nigeria using the seed yam quality management protocol (YQMP) for sustaining seed quality, health and certification of pre-basic plantlets; and implementing improved seed health management methods that incorporate virus elimination techniques and virus indexing especially for pre-basic seed yam production."
According to Felix Ejiroghene Lawyer, a training participant, "the training has been very educative. Through it I have been able to identify loopholes that have been causing contamination of our plantlets… They are very organized here in IITA. When we get back, my colleague and I will get together with the team at NACGRAB to address our inadequacies so that we can start achieving tremendous results. Thank you, IITA, for giving us this platform. This training has given us the boost we needed to achieve our goals."
NACGRAB is expected to contribute to the establishment and sustainability of the yam seed system by multiplying and commercially distributing sufficient quantities of high quality plantlets of improved varieties to the National Root Crop Research Institute (NRCRI) for the supply of pre-basic seed yam for basic seed yam production along the seed system.