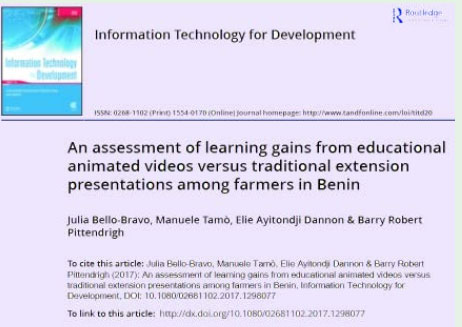 R4D Special: Scientists push for use of animation in rural communication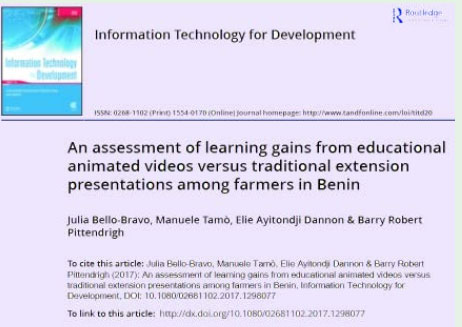 Over 1 billion low literate and illiterate individuals living in the remote rural areas of developing countries have been reported to experience the daunting challenge of understanding scientific findings. Because of lack of formal education, their comprehension of science is further hampered. The situation in countries like Benin republic and Nigeria for instance is no different, but there's hope.
In the past, traditional government-based agricultural extension programs have mostly been the channel through which knowledge reaches rural farmers in Africa. This is however seriously hindered by lack of funds and materials, forcing one extension worker to provide services to over 1200 farmers in many instances.
Through a recent survey conducted by IITA scientists in collaboration with partners, it has been found that the mobile technological application—Michigan State University's Scientific Animations Without Borders (SAWBO)—has bridged the hurdles that extension agents face in discharging their duties and now makes learning more fun and easier for West Africa's rural beneficiaries.
With SAWBO, extension agents are better able to share life-improving knowledge with the farmers who produce the bulk of Africa's food.
Carried out in Bénin, the study tagged "An assessment of learning gains from educational animated videos versus traditional extension presentations among farmers in Benin" sought to verify the retention of lessons acquired in agriculture and health through SAWBO versus that from traditional learning extension (TLE). The survey was anchored on the premise that farmers in Benin and other developing nations have the potential to access information through mobile phones, and since they constitute the largest proportion of the uneducated population in rural areas, they should be the main target audience of any exploratory ICT training.
SAWBO represents an academically based exploration for connecting global experts in a virtual manner to create educational content for use by low-literate learners—an exploration that aims to produce tangible educational content that is testable, useable, and effective in the field. By design, SAWBO animations use carefully crafted, cross-culturally acceptable visual images amenable to translation and description in potentially any local (or locally accented) language. Each SAWBO educational video addresses specific diseases, value chain limitations, or agricultural challenges and proposes effective and simple techniques that can be adopted in the field.
The videos are provided free of charge and for educational purposes only. SAWBO can be directly downloaded onto a computer from their online library (http://sawbo-animations.org). Additionally, SAWBO's Deployer Application (App) 1.1 allows anyone with an Android phone and access to the Internet to access SAWBO animations. The animations, in turn, can be downloaded onto an Android device through the Deployer App and then played at any time, including when the device has no access to the Internet.
In this way, an extension agent or aid worker can use such a device as a portable video-viewing device for individuals or groups in the field, easily providing them access to educational animations either on a specific, relevant topic and in a specific, relevant (or locally accented) language as well as the local country accent for that language (where available) or at least the closest useful animation and language/accent.
Additionally, the animation can be shared and transferred onto other devices using Bluetooth technology, allowing the animation to spread "virally" between phones, even those without an Internet connection, thus making it a highly efficient and accessible system of sharing knowledge. The App is available for free download on Google Play (goo.gl/uH7Ggo).
Similarly, it was also discovered that participants who watched a video animation demonstrated greater learning gains compared to those who attended a TLE presentation of the same information, and also that animation viewers more highly recommended them as a form of information sharing.
Based on these findings, the scientists are advocating for a concerted effort in sharing and replaying learning videos because the "authority" of the information in the videos resides in their scientifically developed content. Replaying the video reproduces the original learning environment on the spot and effectively makes each person sharing the video into a kind of teacher.
The study was conducted by Julia Bello-Bravo from Michigan State University, East Lansing, Michigan, USA; Manuele Tamò, and Elie Ayitondji Dannon from IITA, as well as Barry Robert Pittendrigh, also from Michigan State University.