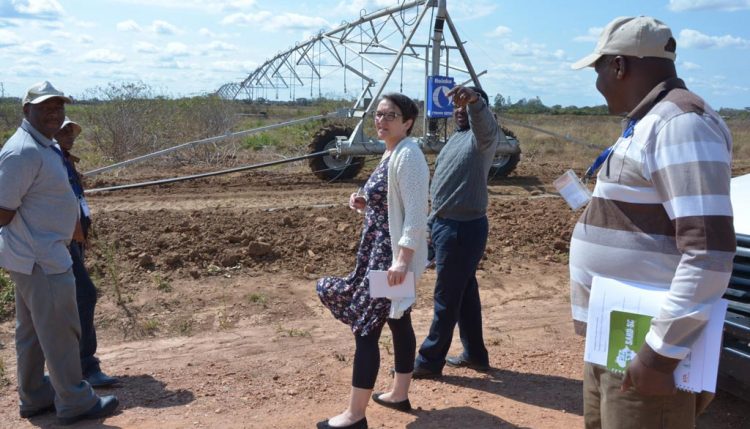 New DDG-R4D visits southern Africa Hub
From 6 to 7 July, the new IITA Deputy Director General for R4D, May-Guri Saethre, was at the Southern Africa Research and Administration Hub (SARAH) campus in Lusaka, Zambia, as part of her familiarization tour of the different IITA stations and offices across Africa.
During her sortie of the SARAH campus, she toured the station's research facilities and experimental fields. She also met with scientists and staff, who briefed her on the different research activities and projects happening within the country and the
region.
David Chikoye, Regional Director for Southern Africa, led Zambia-based staff in welcoming the new DDG to SARAH. Saethre was particularly interested in IITA-Zambia's modern mechanized irrigation system, which is currently being tested on-campus, stating that this could serve as a model for other IITA stations to emulate.
"I am very impressed by this irrigation system that you have set up here," the DDG pointed out. "At Ibadan, we are looking at ways to modernize and make more efficient the irrigation system that we have in place there, which has been there for decades."
"What you have here could serve as a model of a modern and fully automated irrigation system in our experimental fields in different IITA stations across Africa," she added. "But more than the irrigation system itself, we need to realize that IITA exists to show farmers that things could be done better and more efficiently in the farm. And this system is a good example," she emphasized.
"What we want to do here at SARAH is to showcase automation and mechanization of agricultural processes," explained Chikoye. "In addition to this modern irrigation system, we also have a well-equipped cassava processing center and an agricultural machinery fabrication building. Together, these facilities highlight what African farmers in southern Africa could potentially adopt to make their lives better."
Apart from touring the campus and facilities, the DDG also held meetings with IITA staff based at SARAH as well as those from Malawi and Mozambique, who participated via online conferencing. Here, the DDG briefed the staff on her plans, and also answered questions asked by staff.
"I am pleased to be here at SARAH," Saethre said, "and I can clearly see that the Hub is doing very well in terms of research and related activities. With my interactions with all of you, I have also sensed the deep dedication and belief of everyone in what IITA is trying to accomplish here in this region."
"Rest assured that I and the R4D directorate will do our best to support your initiatives in southern Africa. And thank you very much for welcoming and having me here. I am very sure that I will be back soon," she  concluded.