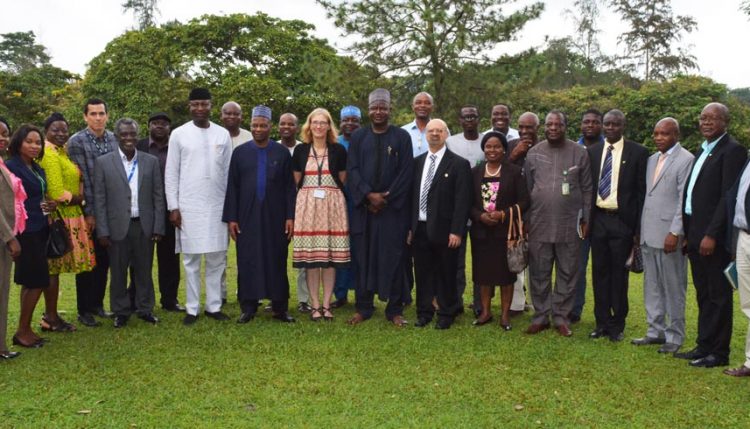 Federal Ministry of Environment establishes ties anew
The new Hon. Minister of State for Environment, His Excellency Alhaji Ibrahim Usman Jibril, visited IITA this week to familiarize himself with IITA and seek future collaboration.
The minister was accompanied by the Permanent Secretary to the Ministry of Environment, Dr Shehu Ahmed, a former IITA board member and immediate past Permanent Secretary of the Federal Ministry of Agriculture and Rural Development; the Executive Director of the Forest Research Institute of Nigeria (FRIN), Dr Adepoju Adeshola, and a host of other officials.
Deputy Director General for Partnerships for Delivery Kenton Dashiell welcomed the minister and his party to IITA, after which Robert Asiedu, Director, West Africa, explained about some of IITA's ongoing efforts and activities in Nigeria.
The Minister congratulated IITA on its 50th anniversary celebration and its many groundbreaking activities, saying "IITA has been quietly working and touching the lives of Nigerians…We are proud of that…"
He said, "We are here because we believe we are partners and can keep on collaborating on sustainable agricultural practices…agriculture needs to be sustainable since there are many (environmental) problems associated with agricultural activities."
"We are visiting research-related institutions, and in our own national interest, we are taking care of key international donors and partners," he said. "We will continue to collaborate and find new areas of collaboration with IITA."
The Minister also brought up the issue of biotechnology and genetically modified organisms (GMOs). He said the Ministry is neutral and looking at things objectively and scientifically. He said there is a need to let people know what is happening.
In response, Dashiell said "IITA has the capacity and resources to talk about these breakthroughs. We should and will continue to work with both the Ministry of Environment and the Ministry of Agriculture and Rural Development to creatre jobs and increase the productivity of farmers while protecting the environment."