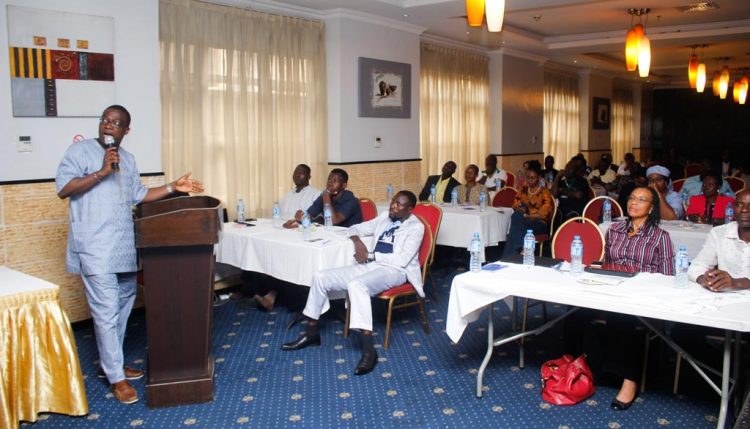 Networking in agriculture, the case of AgResults
As Nigeria advances on its resolve to diversify its economy and reignite agriculture, an IITA project—emphasizing strongly on both health and income—is creating the needed platform for the new wave of businesses that will spring from the sector.
The project, called AgResults Aflasafe, is the first multilaterally funded pilot that encourages farmers to use IITA's flagship biocontrol product aflasafe, proven to reduce aflatoxin contamination in field and store by more than 80%. Aflatoxin is one of the most harmful toxins of natural origin known to man.
Through its pull mechanism, AgResults links producers of aflasafe-treated (proxy for low aflatoxin) maize with potential off-takers through implementers who enforce standards and nurture the relationship between smallholder farmers and private sector businesses. This symbiotic relationship creates a bond between stakeholders and a paradigm shift in the way traditional agriculture is viewed and practiced.
Those already on the scheme are better off. One such beneficiary is Chief Eric Nwokedike Ozongwu, a grain merchant based in Kaduna state who participated in the year 4 innovation platform and market linkages workshop held in Lagos on 29 June. After 3 years of using aflasafe, Ozongwu is one of the first set of Nigerians confident that his aflatoxin-reduced maize can meet the standards set by Europe and America.
"The fact remains that aflatoxin is a big problem. I sell maize to Nestlé and this has exposed me to the dangers that aflatoxins pose especially for children. Nestlé has set a maximum limit of 4 parts per billion aflatoxins for the grains that they use. This may seem really a stringent standard but we have met this specification using aflasafe. Aflasafe works! My company's next plan is to export maize to Europe and America and with aflasafe we can go to sleep trusting that the grains will not be rejected there," Ozongwu said.
But how can off-takers like Ozongwu remain in business and continually aggregate the volume of safe maize that is demanded by food processing companies like Nestlé and Flour Mills of Nigeria Plc for instance?
Debo Akande, Lead, AgResults project, Nigeria, explained that when the right networks are in place, the existing disconnect between maize producers and buyers who are mostly residing in different regions of the country is bridged.
"In the agricultural industry in Nigeria, maize farmers ask the questions who will buy the low-aflatoxin maize I produce? On the other hand, buyers struggle to find safe maize. It was essential then for AgResults to create the bridge for the market of aflatoxin-reduced maize, and the project does so every year through its innovation platform and market linkages workshop," Akande noted.
This year, the farmers participating in the project hope to produce 80,000 tons of aflasafe-treated maize for which there are already assured buyers. Akande, therefore, called for more producers to begin using aflasafe so as to enjoy premium prices for their produce. He also enjoined government to create an enabling environment for the private sector to drive transformational changes in the country's agricultural sector.
Another commendable approach the project recently explored is providing opportunities to farmers to access funds required to purchase Aflasafe and growing maize on a large scale. To take care of this, AgResults has enlisted the Nigeria Incentive-Based Risk Sharing System for Agricultural Lending (NIRSAL)—an agency facilitating access for farmers to loans and credit from banks.
"NIRSAL takes the heat off farmers by derisking agriculture and issuing credit guarantee so that banks can have confidence to give farmers access to loans which they need to grow their businesses. The organization also provides inputs, machineries, storage, market and all the farmer needs to get the best agronomic practices to do his farming business," said Chris Uche, a NIRSAL official.
Furthermore, AgResults also partners with regulatory agencies such as the National Agency for Food Drug Administration and Control (NAFDAC), which enforce standards for maize export and processing. In the long run, the project will complement efforts of the Aflasafe Technology Transfer and Commercialization (ATTC) project specially designed to tackle the aflatoxin problem in maize and groundnut, creating a balanced opportunity for viable businesses in the maize and groundnut value chains to thrive.