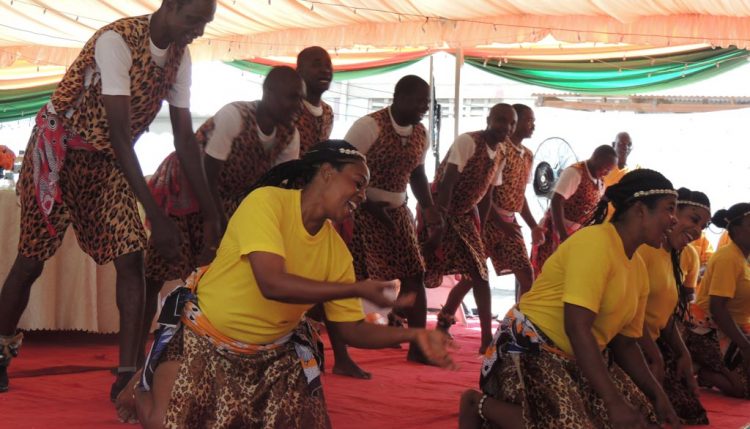 IITA reaffirms commitment to rural transformation as it celebrates its past
IITA's Director for Eastern Africa has reaffirmed IITA's commitment to transforming rural areas in Africa while speaking at Day 1 of IITA's 50th anniversary celebration at the hub.
Manyong noted that while the anniversary was a time to celebrate IITA's achievements, it was also time to critically reflect on its future role and identify its areas of focus in the years to come, particularly in the eastern African region.
On the successes, he highlighted how IITA's research had helped save cassava in Africa from two deadly pests—cassava mealybug and cassava green mite. Independent experts valued the impact of IITA's biological control against cassava mealybug between US$15.6 and 27.8 billion. Similarly, another effort saw the cassava green mite brought under control with another predator from Latin America. This has saved the ECOWAS region an estimated US$1.8 billion over 25 years.
In Eastern Africa, IITA spearheaded efforts to tackle major diseases such as the cassava brown streak and cassava mosaic diseases that had drastically affected the crop's production. Banana Xanthomonas wilt disease is a major threat to banana production in the Great Lakes region. IITA staff and partners had developed a new technology through genetic engineering to solve the problem.
He pointed out the main challenges that IITA will continue to address with its partners. These include the rapidly increasing population in Eastern African that had more than doubled between 1990 and 2015 in the three major countries where IITA has research bases: Kenya, Tanzania, and Uganda. The share of urban population also increased with a country such as Tanzania reaching more than 30% in 2015 while it was below 20% in 1990. It is projected that its urban population will jump to above 50% by 2050.
"Food imports are a major concern in the continent. Africa is spending more than US$35 billion per year on food imports. Malnutrition is also widespread: between 26% and 38% of children in the region were found stunted between 2010 and 2015 although these figures are 5% lower than those in the previous period."
"With these trends, the collective goal therefore should be to achieve rural transformation in Eastern Africa. We need strategies that efficiently put under control biotic and abiotic stresses that continue to hamper the productivity of crops. This includes delivery of proven technologies to beneficiaries and development of appropriate R4D technologies to address emerging threats," he said.
IITA50 celebrations were attended by staff working in the three countries in the Eastern Africa hub—Kenya, Uganda, and Tanzania and from Ibadan, Nigeria, led by Deputy Director General May-Guri Saethre and Head of Audit. The event was attended by partners of IITA and staff from East Africa.