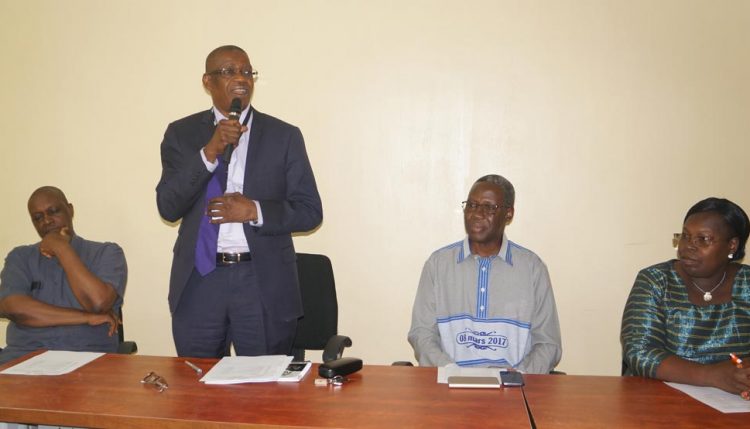 Burkina Faso's Ambassador to Nigeria visits IITA Abuja station
The Ambassador of Burkina Faso to Nigeria, His Excellency Dr Firmin Ndo, accompaned by his spouse and aide, visited the IITA station in Abuja recently to "understand IITA's work and to strengthen the relationship between Burkina Faso and IITA," Ambassador Ndo said.
Speaking through an interpreter, the diplomat maintained that "Africa cannot develop without agriculture." He expressed enthusiasm that IITA is leading Africa's journey to agriculture as a business, and assured that "There will be strong collaboration henceforth between the Government of Burkina Faso and IITA, knowing that IITA works in my country," Ndo said.
The Ambassador expressed satisfaction over the rich diversity of African nations represented in IITA and thanked Zoumana Bamba, IITA's Head of Capacity Development, and a Burkinabe who facilitated his visit and who was also on ground to receive him along with the head of Abuja station, Gbassey Tarawali.
Bamba explained that the Ambassador has shown great interest in agriculture and youth involvement.
"I am excited to see lots of young people who will be leaders of agriculture for tomorrow," Ndo said after listening to the inspiring presentation by the IITA Youth Agripreneurs (IYA) in Abuja.
In his welcome remarks, Gbassey Tarawali, Head of Abuja Station stated that Amb. Ndo was the first African Ambassador to visit the IITA Abuja station and IITA was delighted to host him. Tarawali and other team members made presentations about IITA as well as other IITA activities in Burkina Faso.
Ouambi Yameogo, an IITA staff member who is also a Burkinabe, delivered a presentation on the Aflasafe Technology Transfer and Commercialization Project (ATTC), part of which is implemented in Burkina Faso.
Before the visitors departed, they toured the fields and fish pond, where the ambassador expressed delight at what he saw.